Class 1 and Sunflowers trip to Rosemoor :)
What an amazing day had by all and the weather was very very kind to us.
We were trying to spot the fish.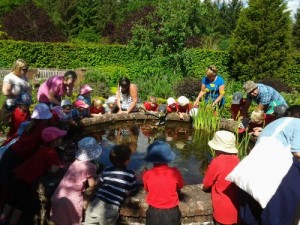 Watch out for the dragon hiding the treasure.
Next we went to THE BRASH.  We had fun collecting, hunting, digging, balancing, running, exploring, hiding and singing a few songs.  We also found a badger sett.  Can you remember what the badger liked to eat?
Lunchtime at the hobbit hole in the beautiful sunshine.
Down to the woods to find the giant but he was nowhere to be seen.  We did find a massive spider.
We found the pond.  We saw some fish, dragonflies of different colours and some pond skaters.  We all stayed dry though!
Rolling down a hill.  One of the 50 things they should do before they are 11 and 3/4.
The journey home was very quiet.
Except for the back of the coach!
Thank you to everyone for either volunteering to help or helping.  Thank you to the children for ALL being well behaved all day.
See you all tomorrow after a good nights sleep.
Mrs Oyarzabal :)