Newsletter: 23rd November 2018

Next Friday is the FOWS Christmas Fayre. This year, we are trying a new format, holding it over the end of the school day, which we hope will make it more accessible to more members of our school family.
The Fayre will open at 3pm, with the School Band playing at 3:15 and the School Clovelly Lights Choir Singing at 3:45pm.
Stalls include:
Santa's Grotta

Hot Turkey Rolls

Craft Stalls

Children's Family Group Enterprise Project Sales

Raffle

Cake Stall
We need helpers on the day, please! If you're able to be around for even part of the Fayre, please let Lynsey Eavis know via Cranford Class or leave a message for her at the school office.
We would also like donations of cakes for the Cake Stall – any type of cake will be welcomed, please send them in to school on either Thursday or Friday next week. Thank you!
Poppy Appeal Thanks
A huge thank you to everyone who supported our Poppy Appeal this year. If felt a little odd not seeing the children wear poppies, but they certainly enjoyed buying the poppy-themed rubbers, pencils, keyrings etc. Next year, we are hoping to have a balance between the two so children can still get their 'merchandise' but aso get into the habit of wearing a poppy at this important time of year.
We're delighted to say that the collection tin contained £90 in donations! Thank you for supporting!
---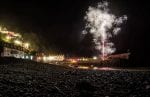 Clovelly Lights – in aid of the Clovelly RNLI. Suunday 2nd December 2018 from 3:30pm to 7pm approximately.
Christmas lights in the village makes this such a magical time at Clovelly.  Our local brass band leads the procession down to the harbour with festive Christmas carols.
There'll be a hog roast, hot dogs, Christmas grog and other refreshments available at the Harbour and Lifeboat Station and Father Christmas will make a surprise visit. At about 5 p.m. the switch is thrown and the entire village and harbour lights up. It's a fantastic sight!
The Carol Service is then led by the Chaplain of the Lifeboat Station. Following this our grand finale of fireworks finishes the festivities off perfectly.
Entrance fee: £5 per car at the Visitor Centre after 3 pm. All proceeds to RNLI
---
Athletics Success
Welll done to the 13 Year 6 children from Ashmansworthy who took part in the annual Athletics trials at Bideford College on Friday last week. We were delighted to be told that the boys came first from all of the schools taking part, whilst the girls team came sixth. This gave an aggregated score of fourth overall, not enough to progress to the next round, but an awesome achievement nonetheless. It was particularly nice to see all of the children working so closely together to get the best scores possible, giving both encouragement and tactial talks as well! thank you to parents who helped with the transport, as always, we couldn't have done it without you!
Cathedral Performance
On Monday, the school choir will be performing at Exeter Cathedral, alongside 260 other children and over 100 adults from Teachers Rock from across Devon and Somerset, for a sell-out concert in aid of the Teenage Cancer Trust. This will be an awesome experience for everyone involved, and the children have worked very, very hard learning some complex music and words. To be performing in such an iconic location as the cathedral is an amazing opportunity, but to have a capacity audience of 700 people as well will be something we hope the children will remember for a very long time to come – good luck, everyone!
Bethlehem The Musical Tickets
Letters went out yesterday (Thursday) for you to book tickets to watch this year's production of Bethlehem The Musical. If you've not received one, have a look in the depths of your child's book bag or ask them to check their trays – you really don't want to miss this show! We are hoping tickets will be sent out towards the end of next week.
Family Group Points
The fortnightly Family Group Points count-up has taken place, with points added to the existing total for this half term. The children are competing to win a Christmas Cupcake Creation afternoon with Kitchen Dave on the last Thursday of the term. It's a tight race at the top with only two points separating four Family Groups, but even Oak, who are a bit behind in last place at the moment, could easily catch up with some really focused learning between now and 14th December!
Beech:  196
Eldar:  194
Hazel:  196
Oak:  141
Silver Birch:  158
Sycamore:  158
Willow: 195
Smile!
Just another reminder that whilst you're Christmas shopping, you can generate funds for FOWS…
…without having to do anything other than register. Just go to smile.amazon.co.uk and search for Friends of Woolsery School on the charity search page, then sign up and provided you shop on Amazon via the Smile landing page (not the regular Amazon.co.uk) we'll get 0.5% of each purchase you make. It's paid straight into FOWS' bank account and we don't see what you buy! By going to Smile first, you still get all your order history, payment details, wish-lists, etc. Supporting FOWS on this could be very important for us in the run up to Christmas, so please take time to sign up if you can.
 Headteacher Awards
Our amazing learners this week, who have all received a Headteachers' Award, are:
Cranford: Scarlett – always wanting to write the sounds we are learning; Rebecca – great sounding out when writing words.
Burscott: Genevieve – Excellent use of the text to answer questions in guided reading this week; Emily – Doing a great job of remembering and performing the songs and dances this week.
Stroxworthy:  Isla and Hope – Creative skills when working with Miss Poole
Alminstone: Alexander – Often giving that little bit more than what is asked of him, and for taking onboard feedback in maths; Morgan C – Always trying his very best and being a good learner in every lesson.
Ashmansworthy: James – making excellent progress in maths and always challenging himself to do work of a high level; Emily – always listening well in class and producing work of a high standard.
---
The Week Ahead
Monday: Swimming continues for Y4 and Y5, School choir at Exeter Cathedral with Mr Cole and Mrs Newell
Tuesday: Mr Cole out all day – Teaching School. Stroxworthy visiting Bideford on 319 Service Bus.
Wednesday: 
Thursday: 
Friday: FOWS Christmas Fayre from 3pm – ALL WELCOME!
Sunday: Clovelly Lights

in aid of the RNLI, from 3:30pm to 5:30pm approx (stalls continue to 7pm approx)
---
With best wishes,
Matt Cole