Newsletter: 15th November 2019
Cross Country Success
A huge, huge well done to everyone who took part in last week's Cross Country event at Kingsley School. There are many tales of outstanding personal performance and one truly remarkable achievement too…. Here is Mr Davies' report…
Last Friday, 32 children represented Woolsery Primary School at the Kingsley School Cross Country Competition.  The sun was shining, but it was a tough, muddy course.  The children in years 3 and 4 ran just over 1km, whilst the year 5 and 6 pupils ran just over 1.5km.  All the children did their best and were very encouraging not only to all of our runners, but also cheering the runners from every school demonstrating their excellent sportsmanship.  Well done!  Congratulations to all our runners who performed brilliantly, with many finishing in the top 10. A special congratulations to Imogen T who won the year 4 girls race out of a field of well over 60 runners.
Children In Need
Thank you to everyone who contributed to our Children In Need day today – some great non-uniform was on display and a flurry of cakes and cookies made the breaktime sale a success too. In fact, we'vew had so many wonderful cakes sent in, we will be running Cake Sale 2 on Monday.
Our Cake sale raised an astounding £116.50 – thank you! Along with our Non-Uniform Day donations, Woolsery Primary's contribution to Children In Need this year will be…
£213.20
(Updated following Cake Sale #2 and all final donations – well done everyone!)
Bring A Bulb Day
Community Voice children are very keen to have another Bring a Bulb day here at school, something we've not done for a few years. We'll be inviting all children to bring in a daffodil, crocus or tulip bulb and these will be planted out in the village during a special family group time in the next couple of weeks. If you are out in the shops this weekend, please could you bear this in mind and perhaps choose a bulb with your child for them to bring in and plant? Thanks
We've had a really successful Anti Bullying Week here at school. Thank you to everyone who wore odd socks to mark the week on Tuesday! There have been some really good discussions in Family Group Meetings and in Philosophy lessons this week. James and Grace ran an excellent assembly for the children on Monday as well!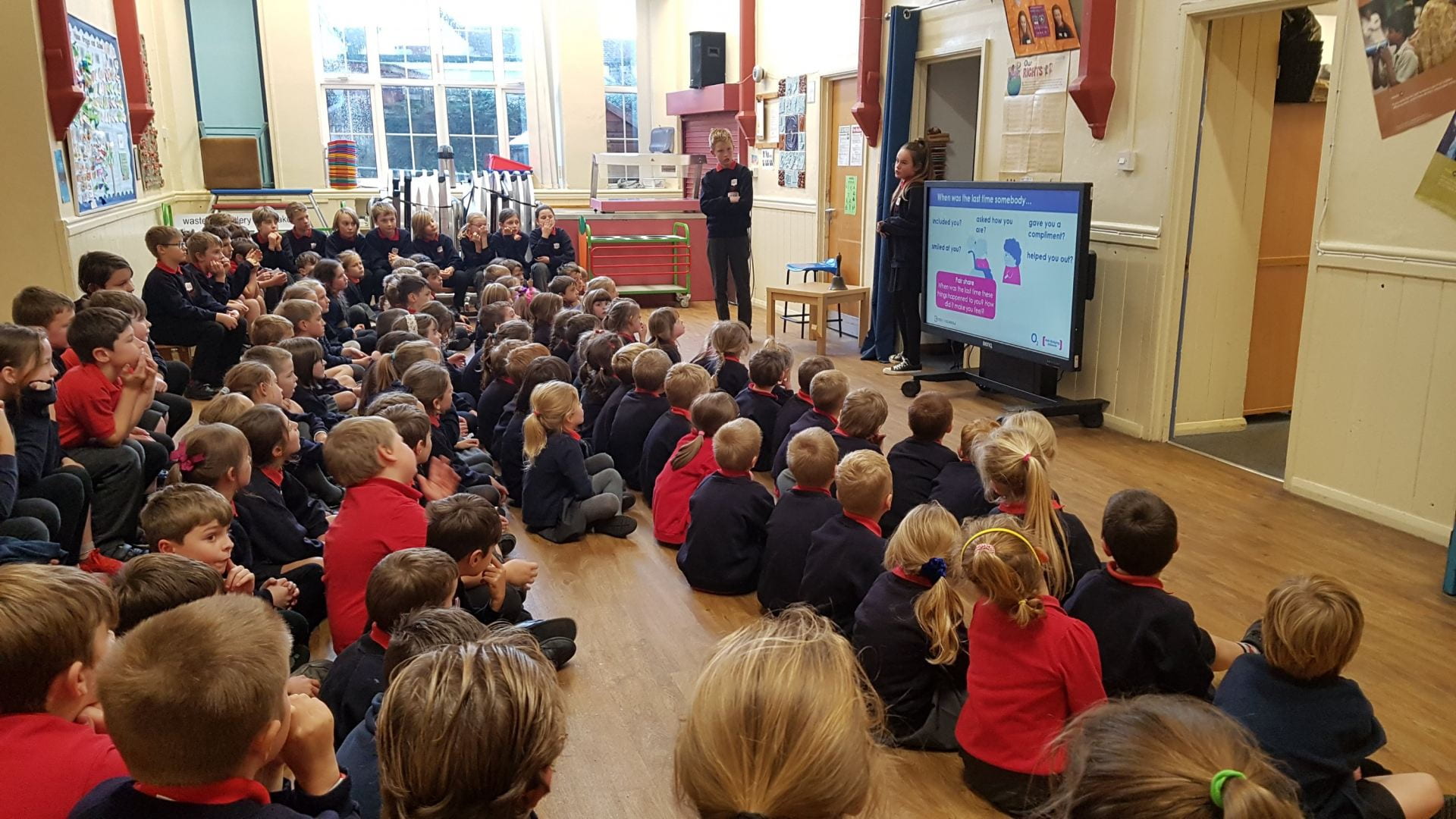 Friends of Woolsery School
The re-branding of our PTA is almost complete, so please look out for an exciting Newsletter in book bags over the coming days!
We are delighted to say that the Hallowe'en Disco raised an amazing £280 profit for the school – thank you to everyone for supporting it so strongly! A huge thank you to Siobhan and Zoe for DJ-ing the evening; all the children had a great time!
Please keep Friday 6th December free in your diaries. We will be holding a Movie Night here at school from 5:30pm and also a Christmas Jumper Day during school time in exchange for raffle prizes for the School Production. More information about the type of raffle prize we'll be requesting from each class will be sent out in the next week or so.
Clovelly Lights
We are still urgently looking for children to take part in this year's Clovelly Lights. If your child would like to be in the group of school singers at the efvent, they need to collect a letter from the office on Monday, otherwise we may be unable to take part this year.
Heatree Residential
The Year 3 and 4 residential to Heatree is almost full. We are currently in discussion with the Centre to try to secure more places as demand this year has been very high. If they're not able to give us more places, we will open a waiting list on a strictly first-come, first-served basis on receipt of a deposit. If your child's place is not secured, we will of course return the deposit to you.
All deposits received up to Thursday evening (14th Nov) have successfully booked a place.
---
Woolsery 'WOW' Nativity
Woolsery Open Worship presents the  Christmas Nativity
Sunday 22nd Dec – 4pm All Hallows Church
Please get in touch if your child is interested in taking part.
(Jane Cann – haworthjane@hotmail.com)
---
Well done to everyone who has been presented with a Headteacher Award for excellent work…
Cranford: Mollie – painting an amazing picture. you mixed the colours red and white to make pink!; Riley – taking part in multiskills at Atlantic Rqacquet Centre
Burscott: Seren J – helping others to make friendship bracelets; Evie R – her enthusiasm during the multi-skills festival
Stroxworthy: Lola – making links in her learning; Bluebelle – always working hard and presenting her work beautifully
Alminstone: Morgan M – always being kind and helpful; Hope – showing her working in maths really clearly
Ashmansworthy: Ashton – working hard, especially in maths; Joanne – always working hard to produce work of a high standard
Monday Mrs Miles out AM – H&S Update
Tuesday – Mrs Farmer out PM – SENDCo
Wednesday 
Thursday Y6 Indoor Athletics try-outs for Team Bath (Bideford College)
Friday