Newsletter: 17th April 2020
Thank You!
Firstly, welcome "back" from the Easter break. This week has been the strangest first week of term I can remember and it seemed very strange indeed to see the school so empty and quiet on Tuesday which should have been our first day of the summer term.
I wanted to say, though, how thankful I am that the vast majority of families are engaging in our remote learning programme to such a high standard. It has been a very steep learning curve to get our remote learning up and running in such a short space of time and our staff have worked very hard to very quickly master new technological skills. However, what's impressed me most is the response we've had from you and your children for the learning that has been set by teachers. We know know from your feedback that you are really appreciative that we didn't take the route of just putting project work up onto our Website for you to "get on with" and instead opted for daily, structured and marked lessons. We know that this can never replace learning in a real school environment but by working so well together, I am very hopeful that core skills and learning staimina won't be lost from our children when the doors eventually re-open.
It has been lovely to see work emerging at all levels of the school, the great mixture of formal, written English and maths tasks, the videos of teachers reading daily stories to their class, the Google Meet face to face time which is now beginning to emerge and of course the projects and tasks to support mental wellbeing.
Please pass on my thanks to your children as well. We know that learning at home can be great, but can also be tough… especially when the sun is shining and the garden so enticing. I can see, though, from the work submitted that our children are really trying their best and thinking deeply about what is being asked of them, and we couldn't ask more than that.
Free School Meals Vouchers
As you may have seen in the Press, the national online system for paying free school meals vouchers has been fraught with challenges and has crashed on numerous occasions.  All of our families who are currently eligible for Free School Meals should be receiving a £15 per week per child voucher electronically from a company called Edenred. I order these vouchers on your behalf every month and they should be delivered to you each Wednesday. If you are not receiving them, please let me know. However, the only thing I can do is re-send the voucher codes to you from within the system. I am not able to change the email address they are delivered to, nor am I able to substitute an alternative method of payment. If vouchers still aren't arriving you should check your spam folder for emails from edenred.co.uk and ensure these are marked as "not spam" so future issues are delivered correctly.
The vouchers can be used for online shopping or converted into e-cards which can be taken to your nominated supermarket to use at a till. Unfortunately, they can't be used at local or independent shops as they are not part of the scheme.
Please remember that if, due to the Pandemic, you believe your family now qualifies for Free School Meals, you should sign up straight away. Once we get notification of your eleigibility through, we will begin issuing vouchers to you, and at £15 per child per week, it's well worth doing. Details of how to sign up were on the last Newsletter.
Beaford Archive
The Beaford Archive, which has an important role in journalling north Devon life in the past is re-opening its archives to record the present crisis. Here is a message from them:
We have been given permission to re-open the Beaford Archive to record what is happening at this time of COVID-19 in North Devon. With your help we hope to encourage all ages to submit photographs to our project: 'North Devon Here and Now'.
The details and instructions can be found here: https://beaford.org/
This week the project will feature on local radio, in The Gazette newspaper, online with North Devon Live, and with Spotlight TV, but to ensure this is a record for future generations we would love to get the message directly to school children, especially if this helps focus local home learning opportunities.
---
In our first Newsletter following the school's closure, we featured the Sanders' family efforts to create an allotment as part of their home learning. The boys were sowing seeds, incubating eggs and so on with hopes of supplying their neighbours with fresh produce. Here are there latest updates:
Faris was also keen to get back to school on Tuesday and sent me this lovely photo of him getting down to his studies…
Megan has been doing cooking and art. She made a beautiful banana cake and really enjoyed it…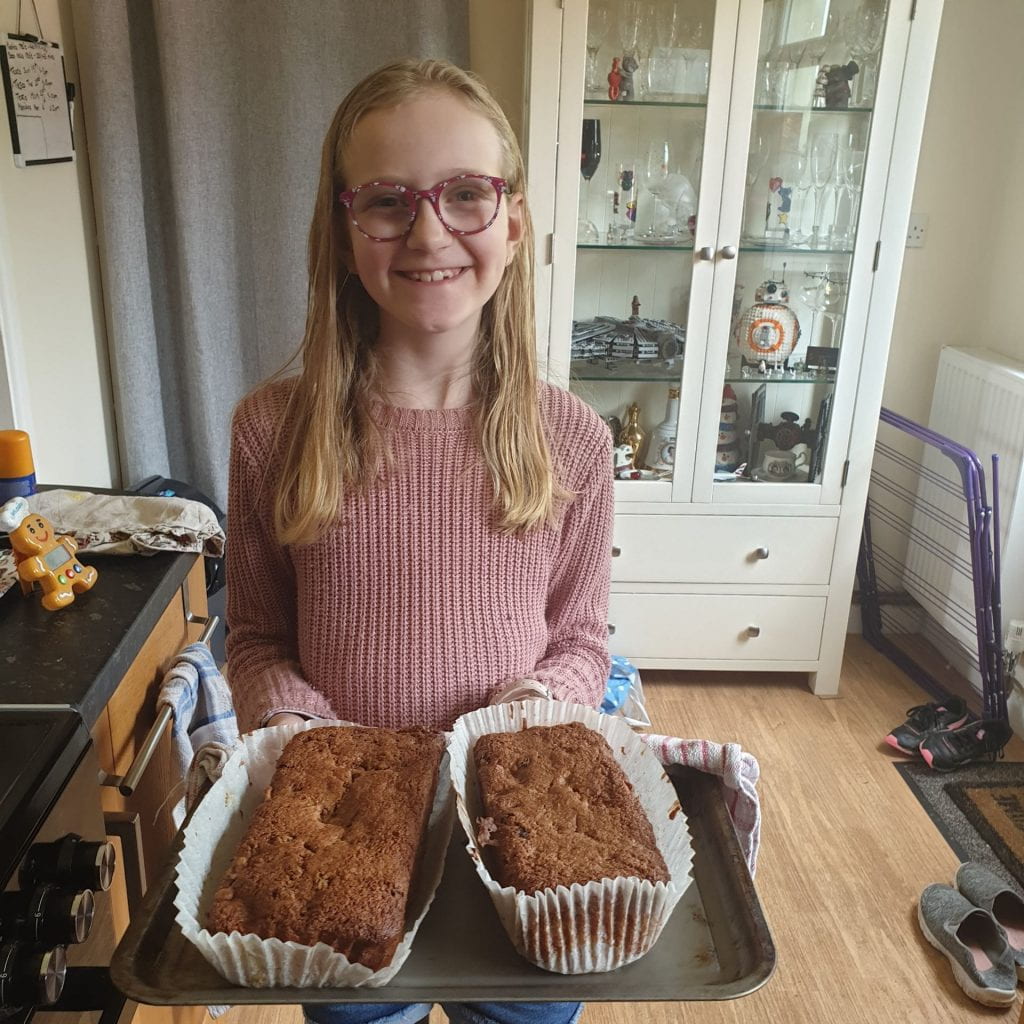 Meanwhile, Alfie has created a frog habitat and Isabeau has made some miniature scarecrows to protect her potato crop…
Please remember to send me any photos of this week's work you'd like included in the Newsletter to mcole@woolsery.devon.sch.uk
---

Well done to everyone who has been awarded a virtual Headteacher's Award for this week's remote learning…
Cranford: Alfie – creating a super habitat for frogs; Isabeau – making beautiful minature scarecrows to protect the potato crop
Burscott: Alfie A – consistently challenging himself with remote learning; Elsa – perseverance with maths work
Stroxworthy: 
Alminstone: Roy – being wonderfully considerate of others in Kennerland Club; Everyone in Alminstone (I'm not sure this is strictly allowed….) – joining in the class and group Google Meet chats and cheering up Mrs Farmer
Ashmansworthy: Dominic – understanding and interpreting information on line graphs and using a spreadsheet on Google Sheets to produce an accurate line graph; Jasmine – understanding and interpreting information on line graphs and using a spreadsheet on Google Sheets to produce an accurate line graph
Year 6 Leavers
Whilst we very VERY much hope school will be able to reopen before the end of the term, time is slipping by. Callum's mum has kindly organised optional Leavers' Hoodies which are now available for order. As in previous years, this is not something organised by the school and is down to parents entirely. If you have a child in Year 6 and would like to order a hoodie, the virtual shop is open until 29th April and no orders will be possible after that date. The shop can be found here:
www.leavershoodies.com/shop/woolsery-primary-school-year6-2020
Regardless of when school reopens, we will also be issuing our usual Leavers' Year Book and children will be able to complete their page online at home should the need arise. It's too early to be doing this yet, but I know some of our Year 6s will be getting anxious about end of term arrangements and this will go some way in assuring them that we'll do as much of the "usual" stuff as possible.
---
1st Woolsery Scout Troop, Cub Pack and Beaver Colony are continuing to run through the Coronoavirus Pandemic. We are using Zoom to "Virtually" meet up each week and Scouts, Cubs and Beavers can also access their badge work from home. If you have a Young Person aged between 6 and 14 who is at a loose end and would like to take this opportunity to join, please email:
woolseryscouts@outlook.com for Scouts
woolserycub@outlook.com for Cubs, or
woolserybeavers@outlook.com for Beavers
with your child's name, date of birth and your email address. We can then set you up on our online portal. Once that's done, your Young Person can then access virtual meetings. Although it won't give them a true feeling of what regular meetings are like, it will give them social access to many people of their own age who they already know and access to a wide range of local and national virtual events which are taking place at the moment.
---
Kennerland Club
Next Week, the Kennerland Club will be running with Mr Cole and Mrs Monk on duty in the mornings and Mr Cole and Mrs Harding on duty in the afternoons. Your Mealtime Assistant next week will be Mrs Todd.
Stay Safe!
Whatever you're doing in the coming days, stay safe and happy. The Newsletter will be back next Friday
With best wishes
Matt Cole, Headteacher