Newsletter – 3rd December 2021
Peter Pan
We remain very hopeful that next week's performances of Peter Pan can go ahead as planned! The DfE are very keen for schools to continue with their Christmas programmes and so, unless a major member of the cast falls ill, we aim to be singing, acting and dancing all the way to Neverland on Wednesday and Thursday! Tickets should be in your childs book bag tonight. Please keep them safe as we can't admit people without a ticket.
However, in order to continue with the shows, please note the following:
All adult audience members and children in Y7+ must wear a face covering for the entire performance (unless medically exampt: we recommend the use of known visible methods for people to display if they are exempt)
All adult audience members and children in Y7+ must have a negative lateral flow test result from a test taken on the same day as they are watching.
Sadly, due to these restrictions, I have had to ask FOWS NOT to supply teas and coffees after the show – however, FOWS are trying to work out how we can distribute mince pies on the way out of the building for a small donation.
On Tuesday we will be holding our Dress Rehearsal down at the village hall in front of an audience from Sunflowers Preschool and Parkham & Buckland Brewer schools. Children in Alminstone and Ashmansworthy classes will be down at the hall from mid-morning for a technical rehearsal so will need a packed lunch on that day. School can provide one for your child – please select your childs choice of sandwich filling using your ScoPay account. The rest of the school will have an early lunch on Tuesday as we need to begin the final rehearsal at 1:15pm. Afterwards, the whole school will walk back up to their classes for a "normal" end of the day.
On Wednesday we will have our afternoon and evening performances. After lunch the school will walk down to the village hall for the 1:45pm performance. Bus children will be collected from the hall at the end of the day but everyone else will walk back up to school to be collected. Please note that this will mostly be a late pick up but you should still wait at the school site until the children start to appear – we will be going as quickly as we can!
On Wednesday Evening no children should arrive at the Village Hall for the 6:30pm performance until 6:10 at the earliest. Please don't bring them any earlier unless requested to do so by your childs teacher (for more complex makeup/hair). Doors to the auditorium won't open until 6:10pm and there will be no waiting inside the building due to our Covid security measures. We hope to have children ready for collection at about 7:50pm.
On Thursday Evening timings will be the same as on Wednesday. Any help to pack up the stage, seating and clear the changing rooms will be most welcome!
On Friday Morning (and only Friday morning) we will be running a flexible registration, whereby your child can arrive at school any time up until morning breaktime (10:40am) and still receive a registration mark for the day.
Please make sure you let us know if your child is unable to wear face paints.
At each performance, there will be souvenir photo programmes on sale and donation buckets. Money collected at each year's production goes on to help fund the cost of future years' shows, so please support as generously as you can.
There wil also be a Raffle. Please send in any suitable prizes on Monday or to the Masked Ball tomorrow – thank you.
Parents are able to take photos during the show provided the flash is turned off. We are having one of the performances videoed, as allowed for in our performance license, but cannot allow parents to video the show I'm afraid. After the show has finished (possibly by the end of term but I don't promise…) we will get the video uploaded to the school's Youtube channel and will share the private link with you to view it or share it with friends and family. For obvious safeguarding reasons, any photos you take containing images of other children must not be shared on social media and the link to the Youtube account should only be shared to people you know and trust and must not be made available to any wider audience.
Finally, if you are no longer able to use the tickets you have been allocated, please tell us as there is a waiting list for both evening performances. We have spare tickets for Wednesday afternoon so please let Tina know on Monday if you'd like some extras for then.
Now that we've got all those rules out the way, let's hope we can go ahead and perform! (you may want to bring tissues….)
Masked Ball – Christmas Disco
Just a reminder that the FOWS Masked Ball will be taking place tomorrow (Saturday) – see poster below. As usual for school discos, children in Y1-6 can be left with the team  here at school if a contact number is given. Children in Reception must be accompanied by parents, please, but those parents must wear a mask at all times and have a negative lateral flow test, taken at some point on Saturday 4th December.
If your child would like to wear a mask to the Ball, there are some templates here which you can download and print…
masquerademask1 masquerademask2 masquerademask3-butterfly superheromask2 superheromask3 superheromask4
There will be games, dancing, sweets bar and fruit punch…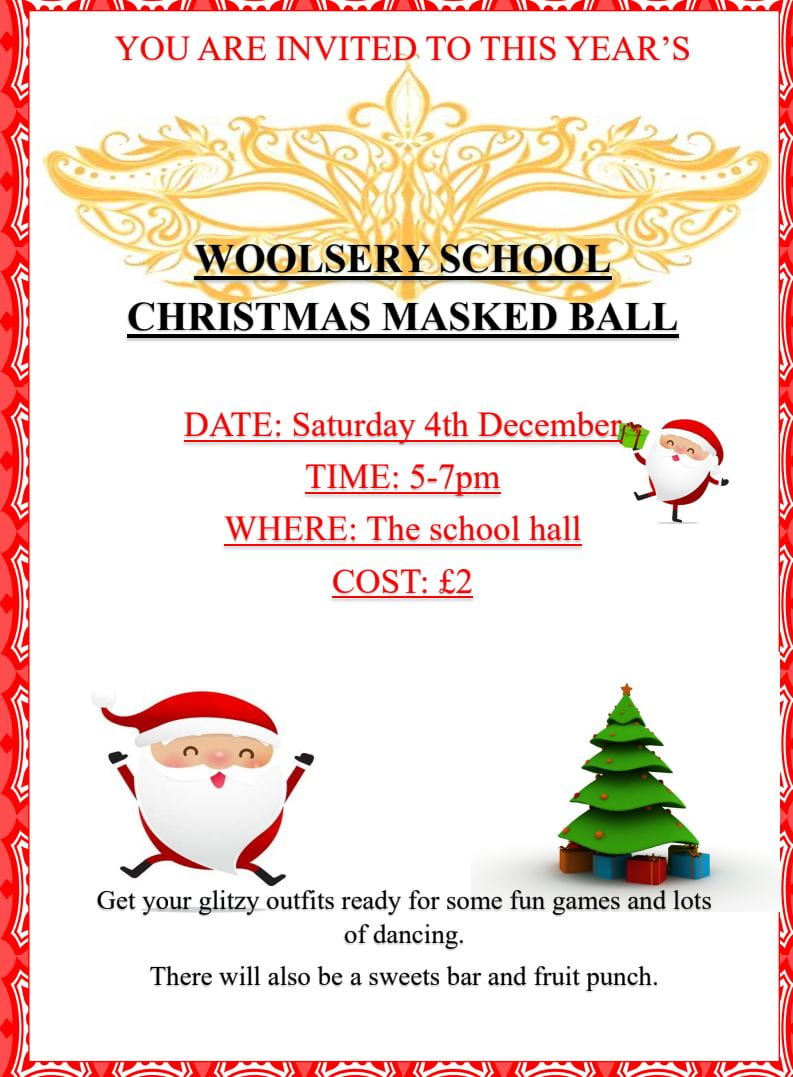 Christmas Post
The school postbox is once again open for business! If your child would like to send Christmas Cards to their friends, they can post the cards in the red box just inside the playground door. Please make sure the envelope has the recipient's first name and surname initial, and their class. Alminstone will begin sorting and deliveries next week.
Clovelly Lights
Mrs Morrison and I were so very proud of the 21 members of the school choir who performed so well at Clovelly Lights last weekend. Although it was pretty cold and wet, there were huge crowds but the children weren't fazed by that at all and sung their hearts ouot, both on the cobbles going down to the harbour and during the carol service itself. Well done, everyone. The footage recorded at Clovelly Lights and earlier in November here at School will be aired on Channel 4's Devon And Cornwall At Christmas around the end of Term. once we have a confirmed date, we will of course let you know.
Christmas Dinner Day
As if next week wan't full enough with all things Peter Pan, Thursday is our Christmas Dinner Day. We strongly encourage children (and staff) to wear a Christmas jumper to school instead of school uniform on the day – there is no charge for this, it's just one of the Christmassy traditions we have.
Return of Masks
Thank you to everyone who responded so positively with my request on Tuesday morning for the resumption of mask-wearing at drop off and pick up times. It's good to once again see our whole school community pulling together to keep our chidlren as safe as they can be from Covid. In communal areas of the school, all adults are once again required to wear masks and we also have to once again ask parents to not enter the building without an appointment. This isn't something we want to do, but it does make managing our Covid controls inside the building so much easier. At the present time, there are no plans to return to class bubbles, staggered starts or separated playgrounds.
---
Well done to everyone who has displayed great Learning Behaviours this week to achieve their Headteacher's Award…
Sunflowers:

Cranford Class: Rogan (spider) – making amazing links in his reading this week; Oscar (dolphin) – amazing writing this week when writing his Santa list.

Burscott Class: Mollie-Jo (spider) – Linking her literacy, maths and art learning to produce a fantastic shape picture of the Polar Express; Kaleb (dolphin) – amazing independent writing about the Polar Express – diving intoo his learning like a dolphin!

Stroxworthy Class: Eva (bee) – working vert well in groups when discussing and selecting rhyming words in English; Jamie (dolphin) – diving into his learning when considering the differences and similarities of the poem and the story of Jack and the Beanstalk

Alminstone Class: Georgia (bee) working together in drama and joining in enthusiastically; Emily-Rose (owl) – looking forwads an dbackwards in th text, linking clues from the writer and identifying features of the text

Ashmansworthy Class: Allan (tortoise) – persevering at his writing with great punctuation for his Tuesday Text; Poppy (dolphin) diving into understudy singing for Peter Pan over the last two weeks.