Archive | Family Groups
Today we went to the church for our Harvest Festival and we braved the rain on the way back but had a wonderful celebration.  Lovely to receive so many donations of food for the Bideford Harbour Foodbank Charity and to share this with so many parents.   Well done to all the children and for […]
Last term Sting Rays won the family point treat which was a water fight.  With the lovely weather, we decided to commence the water works this afternoon.  Some very wet children (and slightly wet adults!) had a lot of fun!
Enterprise Voice visited Tesco this week to find out more about the range of products for possible sale at our weekly Tasty Tuck stalls. They looked at per-item prices and thought about potential profit/loss when everything sells for 50p.
Wow! We had a lovely evening on Friday at the Party for Piseth, our Edukid child who we sponsor in Cambodia. Global Voice organised the evening, including a tuck shop and raffle, and asked Siobhan and Zoe to DJ for them. Here are some photos from the evening – thank you all for your support! […]
Having fun decorating Christmas Biscuits made for us by Kitchen Dave as our end of term treat for the most house points.  Lots of icing and even more sprinkles… Thank you Dave!
Today all the school family groups went to different parts of the village to plant some bulbs in our community. Here are some photos of Elder and Sycamore family groups.
Charity Voice visited Harbour in Bideford today to formally hand over the school's collection of nine bags of items from our Harvest Service. Elaine was kind enough to show the children around and explain who Harbour aims to help and how much it relies on donations like ours. Elaine showed the children the kitchen and […]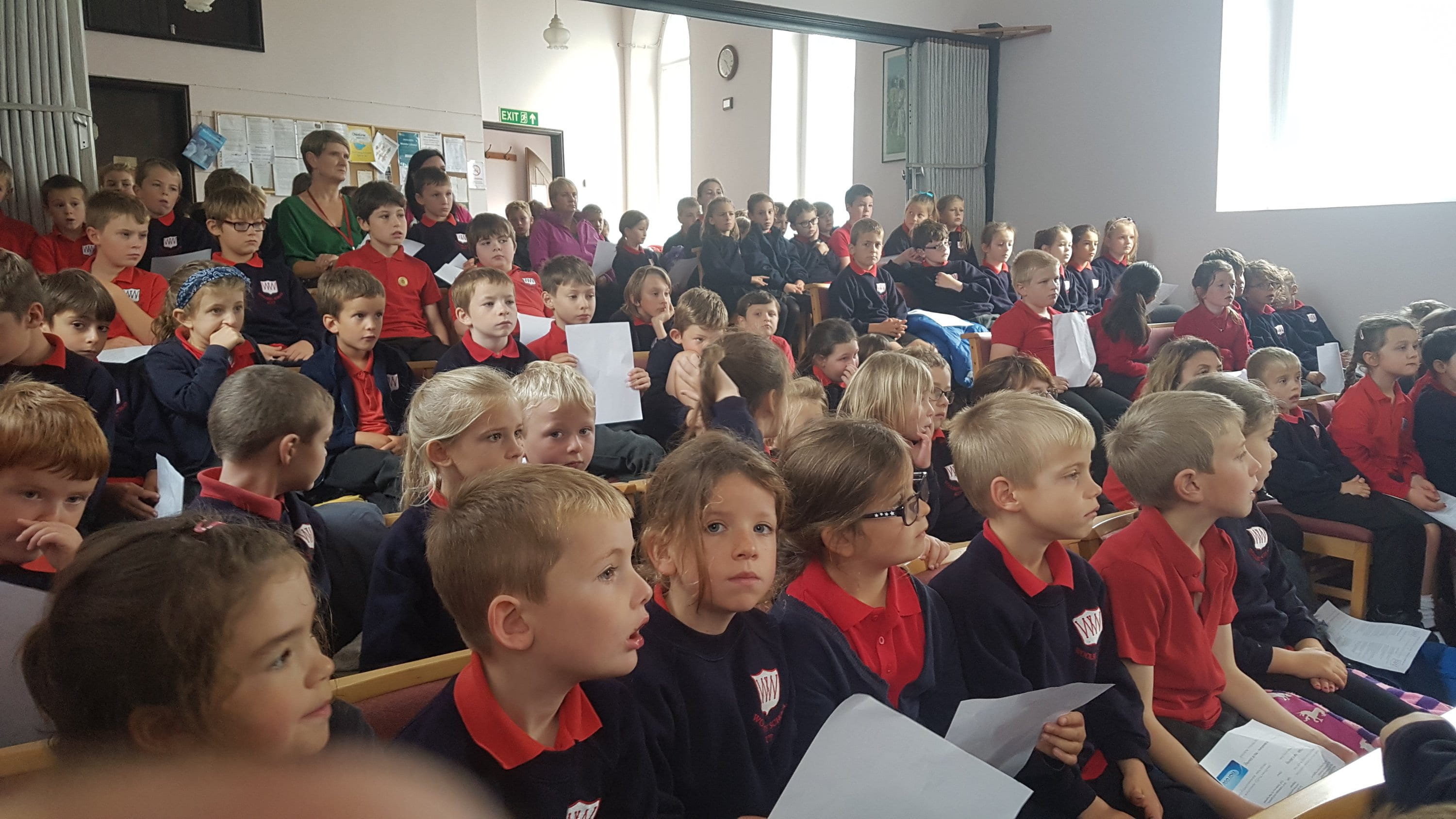 Thank you for your support in this year's Charity Voice appeal for The Harbour Project in Bideford. We had a lovely assembly in Woolsery Methodist Church with Revd Shirley and Revd Jane S. Charity Voice will be heading to Harbour in the next few weeks to hand your donations to the charity in person… (Videos […]
On Friday, Toby and Pat came from the Devon Air Ambulance Trust to open the village's night time landing site, which is located on our school field. We were joined by Councillors from the Parish Council and by our District Councillor too. Mr Robin Edmonds, who used to be a Parish Councillor and has been […]
These photos have been posted on our Twitter account too, but thank you to everyone who took part in our Ramble today – it was glorious weather and fantastic to see so many parents supporting us!
It's not very often I'm lost for words, but seeing over 500 people through the gate this evening was truly humbling- I hope you all had a wonderful time. Massive thanks to so many people…FOWS Committee, Michael Birch, Park Resorts and of course our very own Steve Pennington for bringing this event to our community. […]
Stroxworthy and Burscott classes went to Woolsery Hall this morning to enter a family group football tournament.  They had fun with a few football skill activities and then played each other in full matches.  I wonder who will score the goals? OAK family group came first.  Thank you to all the parents who supported us […]
Last Friday, there was a very exciting event that was held in the hall, it was very busy as everyone was coming to get their hands on yummy cakes and biscuits. The school charity team were working their socks off trying to run the stalls and raise money to help the children in need. A […]
Thank you to everyone who brought in donations for our Harvest Foodbank Appeal… what an amazing total from our school!
Kate, from Usborne Books, came to meet with Community Voice today to help plan an exciting project with Woolsery Tiny Tots. More news soon…