Newsletter: 6th December 2019
Scheherazade Information
Next week, of course, is Production Week!
There will be lots of special arrangements in place – please read carefully…
Tickets
Tickets were sent out on Wednesday so you should have received them. Because each evening performance is full, it's important that you remember to bring your tickets with you as we cannot go over the maximum of 150 people per performance.
If you have tickets which you find yourself unable to use, please return them to school or to the door as some people are unable to see the show and are on standby for any spares.
Clothes
Most children have now brought in their costume items for the show – thank you for your help. It's been a mammoth task for our TA team and their helpers! Please avoid letting your daughter wear tights on Tuesday and Wednesday next week as most children will perform in bare feet and tights will be too slippery on the hall floor.
Make-up
Many of the children will need some stage make up. Please let us know if your child is allergic to face paints before Tuesday's dress rehearsal.
Wednesday
On Wednesday, we will have a slightly early lunch and then walk down to the hall for the afternoon performance which will begin at 1:45pm.
At the end of the Wednesday afternoon performance, all children other than Bus Children will have to walk back up to school for collection. We will not be able to release any children directly to you at the Hall unless you are helping with FOWS refreshments.
In the evening, children should arrive no earlier than 6.10pm..
The performance begins at 6:30pm and running time is about 1 hour and ten minutes, so if you're not in the audience, you should be able to collect your child at around 7:45pm.
Thursday
The arrangements for Thursday will be the same as for Wednesday evening.
Friday
On Friday morning only we will be operating a flexible registration morning so your child will get a full attendance mark if they are in school before 10:30am. As usual, though, please remember to phone school before 9:20am to confirm they are coming and to book lunches. Please note that we cannot operate this concession on Thursday morning so all children need to be in school at normal time.
At all performances, there will be refreshments and a raffle. There will also be a collection for school funds.
Help!
If you are able to help sell mince pies and teas from the stage area after any performance, please could you let us know in the Office. Thank you.
Movie Night – Toy Story 4
Just a reminder that tonight is Movie Night at school, showing Toy Story 4. Tickets for Popcorn & Drink are £2.50 and include entry. Under the terms of our PRS licence, FOWS are not allowed to charge for entry itself. Please along and enjoy this brilliant end to the Toy Story franchise. Children in Reception must have a parent with them throughout the evening.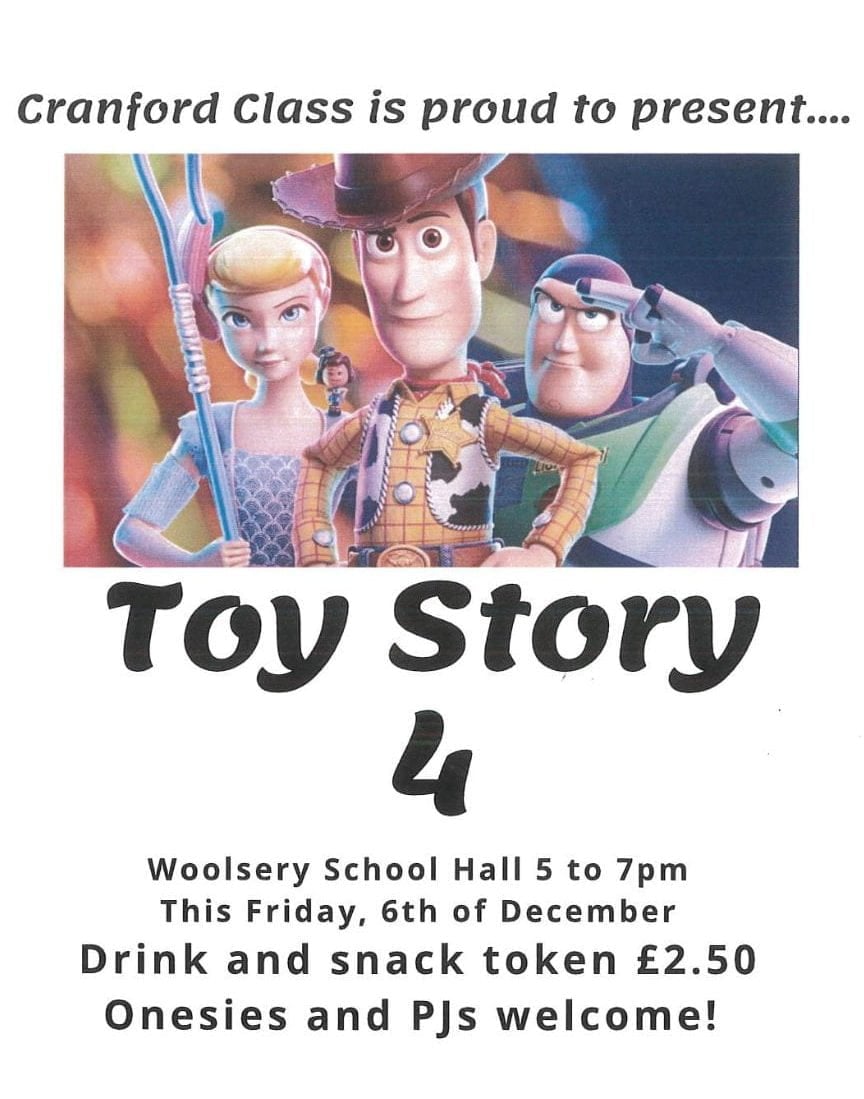 Christmas Post
The post box – beautifully decorated by Dan and Santino- is now in the library for children to post their Christmas Cards to each other. Please make sure the recipient's name is clearly on the envelope, including at least a surname initial, and also the recipients'  class. Thanks.
London Residential
I know that you will share my sadness that there has been another incident in London. I also understand that this is particularly worrying news for parents who are sending their child with us to the Capital for the Year 5 residential in March. Please don't worry about this too much – we have a lot of safeguarding procedures in place and it's also the main reason we use such an established travel company -NST- to arrange the visit for us. I will be able to give you more information about the threat level in London, and also take you through the plans for the visit at a parents' meeting which will take place in the first week of February. I am afraid I can't hold it before then, even though I know it would help with anxiety around the trip, because we don't go to London for our security checks and meetings until the weekend of 1st February and I would rather give you up-to-date information about the trip.
Picking Up Children
If you are picking up your child for an appointment, it is absolutely essential that you sign them out at the office (or Preschool if in Sunflowers). In the last week we've noticed some parents collecting their child directly from the playground or their classroom without going via the office and it's absolutely vital that we know where everyone is. Thanks for you help with this.
Burscott Penguin Artwork
Burscott Class have theiramazing Penguin Artwork on display in All Hallows Church, Woolsery until Thursday next week – please drop in and have a look if you have time. Thanks.
Singing Lessons
One to one singing lessons with Mandy Frater of Cloud 9 Musica will be available in School from January 2020. Mandy is a professional singer and has over 20 years experience of teaching children and adults both in schools and privately. The lessons will consist of age appropriate voice building techniques and exercises to improve breathing, diction, vocal range and performance skills. Pupils will also get to sing a variety of songs from different genres such as musical theatre, rock, pop, folk and jazz. In the future we would hope to offer the children that take up the lessons, the chance to sing and perform as a group. There may also be a chance to take exams.  Singing lessons are a great way to build your child's confidence for many other aspects of their lives. The lessons will cost £9 for 20 minutes and £12.50 for 30 minutes payable in half termly blocks. Please fill out a form available from the school office to book your place.
November's Author of the Month
Last month, our Book Review competition focused on the classic children's author Roald Dahl. We have lots of reviews from all across the school which reflected the wide variety of books Dahl wrote. Our visiting Reader Helpers, Mrs Anderson and Mrs Symons once again judged the entries and we're delighted to say that Elayna has won the competition with her review of James and the Giant Peach. She will receive a £10 Book Token… to maybe spend on more Roald Dahl books…
---

---
Well done to everyone who has been presented with a Headteacher Award this week…
Cranford: Logan – knowing all your letter sounds!; Bella – always working so hard!
Burscott: Emily-Rose – Writing interesting question sentences; Emily – really trying hard to make links in her maths learning.
Stroxworthy: Harley – always trying his best; Ravi – great singing and dancing
Alminstone: Isaac – making huge improvements in the presentation of all his work – well done!; JJ – working really hard on his handwriting and making huge improvements
Ashmansworthy: Chloe E – writing a lovely diary entry from the perspective of Joey in "War Horse"; Nelly – making good progress solving problems to do with percentages
Monday – Annie doing music lessons instead of Tuesday
Tuesday – Dress Rehearsal at the Hall (PM) with Sunflowers watching
Wednesday – Performances: 1:45 and 6:30pm
Thursday –
Friday – Late Registration to 10:30am