Archive | Foxdown Class
We had so much much fun building dens and making s'mores. We did decide to make damper bread however it ended in a flour shower for me. The children then decided to play hide and seek leaving me a trail with their flour handprints along the way.
Today we made string telephones. The tighter the string the more you could hear the other person.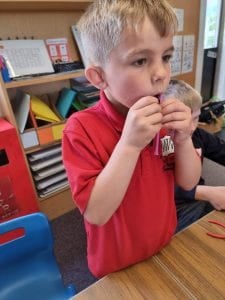 We made pan flutes to see whether different length straws made different sounds.
Todays experiment found us testing elastic bands to see if they made different sounds. We stretch different thicknesses of elastic band over a box and watched to see if it vibrated by using a magnifying glass. We predicted that the thicker band would make a lower pitched sound and it did. The thinner band vibrated […]
Today we experimented with a ruler. We flicked to hear the sounds it made through vibrations. The shorter the ruler the higher the pitch. The longer the rulers the lower the pitch.
We made a drum using cling film and a dish. We used hundreds and thousands on the drum to see the vibrations. The lower the pitch of music the more the hundreds and thousands jumped. This was great fun and can't wait to show the parents on Friday.
How does sound travels? In Sunflowers, Cranford, Foxdown and Orleigh classes this week we are learning about sound. Day 1 ~Tuning Forks Today we learnt how sound travels through the air. We learnt that it vibrates through the air. We saw this by using a drum and some rice placed on top. We hit the […]
Today we started making our bows. This was an amazing thing to see as this was the first time tools were introduced into pir sessions. They learnt how to use peelers (so now they are all safe and ready to start helping with vegetable peeling at home 😄) We also made willow crowns and wands. […]
Today foxdown had fun exploring different natural item to use as paint brushes. They painted their clay discs they made last week. They also had water fun making boats and seeing what sinks or floats.
Today we explored clay and talked about the difference between wild garlic and three cornered leek. Foxdown had fun exploring the clay and making flower ornaments. We also had some shadow drawing and water play. They also decided they wanted to make more ornaments so they decided to make a wooden frame and added items […]
Today, all the pupils from year 1 and 2 joined other schools from ACCT at the ARC tennis centre. They worked together to try out their skills including an obstacle course, tennis ground strokes, tennis ball dribble, throwing and catching and target shooting over a net. All the children gave each other great support and […]
A fun time was had by all at the Easter afternoon organised by the fantastic FOPS! The children enjoyed an Easter Hunt, Easter Bonnet decorating, biscuit decorating and having their faces painted.
Today was sadly our last session for the term. However we finished big. They chopped and prepared vegetables for tomato soup and damper bread. They all tried it and said it was the best soup.they had ever had before! We then finished off with the biggest s'mores I've ever seen thank you to Paula from […]
Today marks the end of winter for many for many people. We celebrated with St Brigid crosses made out of reeds. They were so focused on weaving and were amazing at making these little decorations. We also had a very Muddy day which obviously the only way we can do forest school.
Today we celebrated Chinese new year with some finger printing art. We also explored how we can use Elder and we made pencils and learnt how to use loppers safely.
Today, we had our first fire, we talked about how to be safe around fire. We also had popcorn (which we tumed perfectly as its national popcorn day tomorrow) and hot chocolate. Foxdown Then got busy mark making, building with blocks, cooking in the mud kitchen and playing in the den. We also made willow […]
The great storm of Parkham. This week was a tricky week. The weather was against us, but Foxdown were amazing. We had a quick game of wellie throwing and a story in the hut. But the wind, lightning and hale had other ideas. The resilience of this class was unbelievable.
Today was Foxdowns first forest school session and they loved it. With mud kitchen, chalk painting,  building blocks. We also started our new project of making paper out of denim!!!
Today, we couldn't go on the playground because of all the ice, but we needed to run around. After lunch we were kindly offered the use of Allardyce Hall to use for a PE and fun games lesson. We were split into four teams and showed great teamwork and sportsmanship as we competed in a […]