Archive | Orleigh Class
Today we went to the church for our Harvest Festival and we braved the rain on the way back but had a wonderful celebration.  Lovely to receive so many donations of food for the Bideford Harbour Foodbank Charity and to share this with so many parents.   Well done to all the children and for […]
We had so much much fun building dens and making s'mores. We did decide to make damper bread however it ended in a flour shower for me. The children then decided to play hide and seek leaving me a trail with their flour handprints along the way.
There have been some very exciting developments in the outdoor area of Orleigh classroom! Our new grass has been laid down and the children of Orleigh class have enjoyed playing outside in the sun this week.
Today we made string telephones. The tighter the string the more you could hear the other person.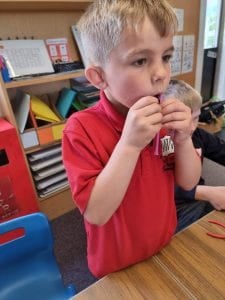 We made pan flutes to see whether different length straws made different sounds.
Todays experiment found us testing elastic bands to see if they made different sounds. We stretch different thicknesses of elastic band over a box and watched to see if it vibrated by using a magnifying glass. We predicted that the thicker band would make a lower pitched sound and it did. The thinner band vibrated […]
Today we experimented with a ruler. We flicked to hear the sounds it made through vibrations. The shorter the ruler the higher the pitch. The longer the rulers the lower the pitch.
We made a drum using cling film and a dish. We used hundreds and thousands on the drum to see the vibrations. The lower the pitch of music the more the hundreds and thousands jumped. This was great fun and can't wait to show the parents on Friday.
How does sound travels? In Sunflowers, Cranford, Foxdown and Orleigh classes this week we are learning about sound. Day 1 ~Tuning Forks Today we learnt how sound travels through the air. We learnt that it vibrates through the air. We saw this by using a drum and some rice placed on top. We hit the […]
This was a lovely session as they moved on from the last weeks session. They did some lovely crafts with wood cookies and recycled milk bottles. We talked about different birds in the UK and then someone found a feather son they grabbed one of the books to try and ID where the feather came […]
Orleigh class spend a wonderful day in Rosemoor. We took part in a workshop where we learnt all about How Plants Grow, and even planted our own broad beans. We then went on a nature gathering mission to find parts of a plant that had fallen off around some of the Rosemoor gardens, we used […]
Today, Tythecott and Orleigh class pledged to become World Record holders as they completed a mile around the school field. They all showed amazing determination and helped support each other throughout to ensure everyone completed the distance. Well done to all of you.       
Today orleigh spotted a black bird so we had an impromptu dance show from all the male black birds in the class to show off to the female black birds in the class. However they were very hard to impress!!!! After this we explored painting with what they could find in the forest school area. […]
Today, all the pupils from year 1 and 2 joined other schools from ACCT at the ARC tennis centre. They worked together to try out their skills including an obstacle course, tennis ground strokes, tennis ball dribble, throwing and catching and target shooting over a net. All the children gave each other great support and […]
The whole school were invited to the chapel and the church this afternoon. We explored the Easter story through several chapters which were interactive and all the children were involved. Ask the children what their favourite part was?  Thank you to everyone who assisted us from parents, staff and Betty and Dave and their helpers.
In Orleigh class we have been learning about using circles to create different dance movements. We pretended to be a piece of silk moving slowly in time with the music. We gave each other positive feedback about our dances.  
The whole school came together to raise funds for Comic Relief on Friday.  We dressed in red, had crazy hair and told each other jokes.  Ask your child their favourite ones.
The whole school created their favourite book character out of potatoes.  First prize was £10 book voucher and an Easter egg, second and third prize was an Easter egg.  Everyone that entered received 3 Family Group points.  Well done everyone: it was a very high standard of entries!  They are all displayed in the library, […]
What a great last session. We chopped and cooked tomato soup and made damper bread. They all tried the soup and bread and the finished of with s'mores and hot chocolate. Its been a pleassure watching this class grow and explore their strenghths and weaknesses, and seeing what they can achieve if they just put […]
  The task today was to make bird feeders. They had to thread cheerios through string. They explored different ways of doing this and then they made banana and oat balls to hangs on the trees aswell. They also had cloud watching, mud painting, and cooking in the new mud kitchen.