Archive | Cranford Class
This week in continuous provision, we have enjoyed playing to learn with our friends. We have used our imagination in role play, practised our ball skills and had lots of fun!
Cranford and Burscott classes had  a great day at Forest School in Burford Woods yesterday.
Today we made string telephones. The tighter the string the more you could hear the other person.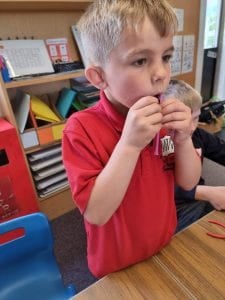 We made pan flutes to see whether different length straws made different sounds.
Todays experiment found us testing elastic bands to see if they made different sounds. We stretch different thicknesses of elastic band over a box and watched to see if it vibrated by using a magnifying glass. We predicted that the thicker band would make a lower pitched sound and it did. The thinner band vibrated […]
Today we experimented with a ruler. We flicked to hear the sounds it made through vibrations. The shorter the ruler the higher the pitch. The longer the rulers the lower the pitch.
We made a drum using cling film and a dish. We used hundreds and thousands on the drum to see the vibrations. The lower the pitch of music the more the hundreds and thousands jumped. This was great fun and can't wait to show the parents on Friday.
At lunchtime, we started a football club for Years one and two with some helpers from the older year groups. We practised dribbling and shooting and then used our skills in a match at the end of the session. It was lovely to enjoy the football in the sunshine. We're all looking forward to next […]
How does sound travels? In Sunflowers, Cranford, Foxdown and Orleigh classes this week we are learning about sound. Day 1 ~Tuning Forks Today we learnt how sound travels through the air. We learnt that it vibrates through the air. We saw this by using a drum and some rice placed on top. We hit the […]
In continuous provision to celebrate the Coronation we have enjoyed lots of Coronation themed activities. These fun activities help us strengthen our fine motor skills and give us the opportunity to talk to each other about the new King.
We are very lucky to have the use of a rain water butt. This means that we can independently fetch water whilst playing to learn. This strengthens our fine and gross motor skills as we turn the tap on and off and carry the water. This also helps develop our problem solving skills by working […]
It was raining today so made great use of our poly tunnel. We planted some seeds, watermelon, beetroot,
It was raining today so made great use of our poly tunnel. We planted some seeds, watermelon, beetroot,
Cranford and Burscott went and had a lovely morning at Arc Tennis centre.
We spent a wonderful day in Rosemoor. First we learnt all about bees. We learnt honey bees have longer tongues than bumble bees so they can reach the nectar. We made some bee hats and used our knowledge of bees to fly to the right flowers. After lunch we explored Rosemoor. We had so much […]
Today, all the pupils from year 1 and 2 joined other schools from ACCT at the ARC tennis centre. They worked together to try out their skills including an obstacle course, tennis ground strokes, tennis ball dribble, throwing and catching and target shooting over a net. All the children gave each other great support and […]
Our greengrocer shop has been very busy since it opened. This new role play area in continuous provision has given the children lots of opportunity to play to learn. There has been lots of conversation with each other, writing shopping lists, recognising numbers, counting, exchanging money and turn taking. We enjoyed a picnic with the […]
Today was our first session of the summer term. We had fun making dens and eating campfire cheese pizza with wild three cornered leek. We talked about our forest school agreement where we don't pick and eat things. But they were told that they can only eat things when foraging with an adult that can […]
To help us understand the world, we have been learning about the life cycle of a frog. We have learnt lots of new vocabulary and some amazing facts. An adult frog can lay up to 4000 eggs in one clump of frogspawn. The black dots, which hatch out of the frogspawn, grow into tadpoles. When […]