Archive | Tythecott Class
Tythecott class again went to Appledore School to continue their work on Henry Rousseau and their collage pictures. They began to cut out their foliage to create the jungle before adding their tiger to camouflage him or her.  Can you see the different jungle leaves?  Can you see how the children have created texture within […]
Tythecott class returned to Appledore School for another session.  This time we used our previous painting base sheet to create a guided tiger's face. Ask the children what was the most difficult part? How did the children get certain parts of the tiger's face to stand out? They looked amazing! Then we practiced creating jungle […]
Tythecott class started their first session at Appledore School using the artist Henry Rousseau as their stimulus. We discovered when he was born, died and his friends.  He was known for his richly coloured and meticulously detailed pictures of lush jungles, wild beasts, and exotic figures. We explored different techniques using paint and brusho to […]
This morning, not many children made it in to Buckland Brewer because of the snow and ice. We had a PE and games session with Tythecott and Gorwood classes joining and demonstrating great teamwork and sportsmanship.
Today was another busy session. We were making Christmas wreaths, some were finishing of their projects from other weeks, with wood cookie necklaces and willow and wool tree decorations. It was chilly so of course we had to have hot chocolate.
We had a great day. We did some cooking and had hot chocolate and s'mores! We also got creative with Christmas decorations and planted a tree in our forest school area. A busy time was had by all.
Today was tough the weather was against us. But wow this class is amazing. We had fun in the Hail the trying to use the wind to keep us up. We also managed to start a project with wood, hammers, nails and wool. Our first letter is up on the fence!!!
Today was fire day! They learnt how fire needs three things to survive, and how to put it out. They talked about how they've been doing The great fire of London we decided to make our own Pudding lane and light it with flint and steel.
In REAL Gym this afternoon, we explored creating gymnastic sequences on the low apparatus.  Using the skills we had learnt in our floorwork last week, we were able to transfer our skills and further challenge ourselves using the apparatus. We continued to encourage and praise our partner as well as give them ideas of how […]
Today the class explored the area again, with mud digging, bug hunting, block building, clay leaf printing, and we started to make some Wood cookies!!! They also explored painting with mud and den building oh and not forgetting HOT CHOCOLATE.
Well what an amazing session. We explored what forest school is and what we can do and what we can achieve.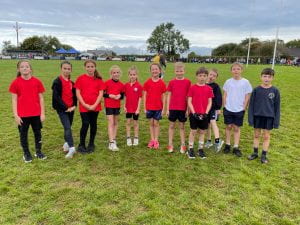 The Village Schools Partnership team were incredible at the Stephen Shield Cross Country at Torrington, showing great determination, self-belief and teamwork. Running a very muddy course, the years 3s and 4s ran an undulating 1.5km and the year 5s and 6s a challenging 2.2km.  All the children showed great sportsmanship cheering all the runners.  Well […]
During our music we have been learning about listening and appraising music. The song we are focusing on is 'Happy' by Pharrell Williams. This week, we practised both vocal parts and used glockenspiels to accompany the melody.
This week in Real PE, we have been learning about working with a partner and balancing, as well as sending and receiving balls. It became very challenging when we were doing partner balances with one hand and then with our eyes closed.  At the end of the lesson we spoke about what our partner did […]
Melbury and Tythecott Classes had a wonderful joint trip to Great Torrington this week to support their History and RE learning…