Archive | Parkham Primary
Today was another soggy afternoon but Melbury soldiered on. We started some crafts with hers, nails, wood and wool.
This week we started some Christmas decorations with clay and willow sticks. We also talked about fire and what it needs to survive. We also had a great game of cat and mouse!!!
Today we learnt how to do some basic knots, played with clay and in the mud kitchen. We also made dens. 
All of the Village Schools joined together this morning for an indoor athletics competition at Atlantic Academy. The children were split into seven teams and took part in 7 field events and ended with a team relay race. The seven field events were the vertical jump, weighted ball throw, standing long jump, speed bounce, standing […]
After school, Village Schools Partnership had two games at home to Hartland. In the first game, the year 3/4 boys gave their all and battled to a 1-0 win. The second match saw our Key Stage 2 girls playing against very tall opposition. This did not stop them winning a very exciting game 4-1. Both […]
A very very wet first session. But Melbury class were amazing and so resilient with the weather and still getting stuck in with different tasks. Can't wait for the rest of the term to see what they achieve.
After school, Parkham and Buckland Brewer came to Woolsery for some friendly football matches. The first game was a Key Stage 2 girls match which showed not only wonderful play and great goals, but also fantastic sportsmanship. Well done to all the girls who made sure everyone had a chance to play in both teams. […]
Children in Goldworthy conducted an experiment which showed the human digestive system… we learnt a new word~ churned 😁
Goldworthy Class had a visit today from Helen, who delivers PSHE lessons for Life Education (as part of our SCARF programme in school)… We learnt about what contributes to our physical and mental health and what we can do to improve our wellbeing. We were told a story about Chris and Tyler and learnt about […]
So sad it was our last session today for this term. Goldworthy have come on so far. They are so kind, creative, resilient, and I know there is so much more to come from our forest school sessions. Today they're mud kitchen 'taco bell' has been christened and we had Veggie chillie and Tacos round […]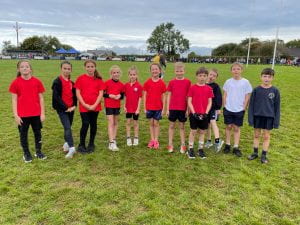 The Village Schools Partnership team were incredible at the Stephen Shield Cross Country at Torrington, showing great determination, self-belief and teamwork. Running a very muddy course, the years 3s and 4s ran an undulating 1.5km and the year 5s and 6s a challenging 2.2km.  All the children showed great sportsmanship cheering all the runners.  Well […]
Village Schools Partnership played two matches away to Hartland. Well done to all the players, you were amazing. Some of the players had never played before whereas some had played last year and for other local teams. The year 3/4 match ended 1 – 1 and the year 5/6 match was sadly lost. There was […]
8A very wet and muddy session. We had a great afternoon, with the kitchen still being built with new pots and Pans added to it, we had charcoal painting going on, a shed being moved and lots of clearing and sorting. They have worked really hard to take ownership of this little area and they […]
Today was the sunshine did come out eventually for us. The children  were very productive today and resourceful. We had a group working on the mud kitchen. We had children using bill hooks and mallets chopping down the wood to make kindling for our camp fire. We had a group of children who were using […]
Wow what an amazing afternoon. As usual the sun did come out for us! But there was some rain at the end of our session. They were so amazing and so resilient working and playing in the rain. Today we've been looking at staying warm and dry with the survival shelters it then escalated into […]
Melbury and Tythecott Classes had a wonderful joint trip to Great Torrington this week to support their History and RE learning…