Archive | Burscott Class
We had a wonderful day at Exmoor Zoo.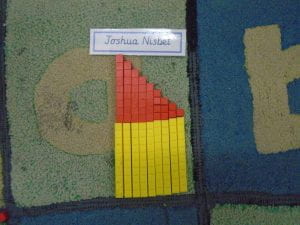 Year 1 in Burscott class have been working on place value this week. Today they made 'teen' numbers with the Diennes independently.
This afternoon, we made a trip into the village to find the mobile library van.  We looked around the range of books and chose one book each to read in class.  
Yesterday in Burscott class, we worked on improving our performance. Working in pairs, we filmed our partner and then discussed what they had done well and what they could improve in their performance. It was great fun being able to see our performances to help us improve.
It was exciting today with cooking and crafting. Burscott also got busy with climbing, chalk art, den building, cooking in the mud kitchen. We also got to start our very own great fire of London with our Pudding lane Wooden houses from last week. We had a sing song around the fire too.
Today we were planting the seeds that we had processed a few weeks ago. Ready for our Tree nursery. The seeds are now in the fridge waiting for the spring when we can plant them. We We were also looking at fire and decided to create our own Pudding Lane so that next week we […]
Today it was raining and we all had to try and see what flavour rain we could taste. There was pizza, chocolate and sweets!!! We also got weeding in our sensory garden area , building with lose parts and of course mud pies in the kitchen.
The children made an amazing effort with their dressing up and have had a fun day completing Pudsey activities, decorating biscuits and best of all, completing a spotty treasure hunt which they really enjoyed – thanks to Charity Voice for organising!
As part of our RE work, Mrs Newell arranged a ceremony to explain a Christian wedding to the children. They all dressed in their best clothes and walked to Woolsery Methodist Church where the ceremony took place with reverend Shirley. They then went back to school for a wedding breakfast and party. A really lovely […]
In Real gym yesterday,  we were learning to develop our social skills to discuss how to create a gymnastics sequence with a partner.  We had to include all five gymnastics shapes including: straight, star, pike, straddle and tuck positions.  Every pair were fantastic at showing good control and body tension.  
We had a brilliant morning at Holloford Farm., finding out all about how a dairy farm works. Thank you to Clare for showing us around and answering our questions!
To burscott have been learning all about knots. They tried their hands at doing a clove hitch and a reef knot. They found it hard but they kept going and did an amazing job. We also did some leaf identification with some clay work. We then ended on a challenge that I've chosen for burscott. […]
Today Burscott had a great first forest school session, even though there was wind and rain they were so amazing. We did go into the polytunnel otherwise all of our creations would have blown away! ⁹We got up to so much tree ID, flowers made of leaves, a game of POP corn, number games, story […]
This afternoon in Burscott, we went on an aeroplane flight to learn more about 'Flying high'.  We discussed that we go to an airport to fly on an aeroplane.  We took our luggage to check in, where we were given our tickets.  We then had to pass our hand luggage through the scanner and go […]
Cranford and Burscott classes had a great trip out to Burford Woods on Monday. Here are some of the photos.
Congratulations to the year 2s of Woolsery and Buckland Brewer who took part in a year 2 rugby competition at Bideford Rugby club.  We scored a number of trys and won the fair play trophy.  Well done to all of you.
We had an amazing day at Burford Woods.  Cranford and Burscott Classes enjoyed making dens first thing.  We then explored the woods, played on the swings, a snooze on the hammocks and a whizz on the zipline. We make a pretty frame using sticks and wool, made some clay faces and had a go with […]
Some more photos from last weeks lovely trip to the beach.