Archive | Stroxworthy Class
Stroxworthy class have had a wonderful time during science week, from STEM challenges to various experiments.  We have been exploring balloon cars, invisible ink, double bubbles, fizzy lava slime and building towers with spaghetti and marshmellows.
Today we were joined by lifeguards from the RNLI. They helped us to explore and understand water safety. We learned how the lifeguards help those in trouble in the water and what we should do in an emergency.  
Whilst digging for the poly beds we found a little frog his been named Stroxworthy. We found a lovely little safe home for him. We also got busy with our new fairy/pixie garden in the forest school area. The children also got busy making Elder pencils and paint brushes.
On Tuesday we spent a glorious day at Rosemoor exploring the gardens and partaking in a 'How do plants grow' workshop.  We learned how plants develop, seed dispersal and what plants need in order to grow big and strong. We also learned how to take care of plants and we all worked together and planted […]
It was great to see Stroxworthy back outside in the forest school area. It's all changed since they were last here. We discussed season's and what was different, they noticed there was no leaves on the trees but buds and flowers were starting to bloom. They also started to help with the schools gardening project […]
Today we learned all about the Jewish festival of Rosh Hashanah which is the Jewish New Year. We explored how Jewish people celebrate this festival which is all about about new beginnings and the year ahead. We found out that on Rosh Hashanah, Jewish people visit the Synagogue, hear special music played on a ram's […]
On Tuesday we began to explore the game of handball. We started with our warm up and then we practised throwing and catching. We are getting rather good!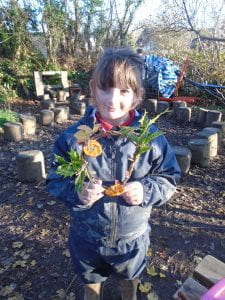 Today we started to make a willow and hazel hurdle fence (Anglo Saxon style! – link to our History topic!), we made Christmas tree decorations from willow, leaves, wool (using our weaving skills) and still had the opportunity to exploire our usual forest school activities like the mud kitchen climbing trees, gardening, maintenance of our […]
Today we continued our lessons of Real Gym. Today we were making rhythms in groups and then matching the rhythms using balls. We then were practising our rotation skills.
Today we were doing lots of things in our forest school area: bug hunting, painting our clay, looking for clouds through a window, maintaining the area, painting trees, mud kitchen, making shields and creating faces from items in and around the forest school area.
All of the Village Schools joined together this morning for an indoor athletics competition at Atlantic Academy. The children were split into seven teams and took part in 7 field events and ended with a team relay race. The seven field events were the vertical jump, weighted ball throw, standing long jump, speed bounce, standing […]
On Thursday we had another fantastic session in our Forest School area. We explored the mud kitchen area, made clay pots and went bug hunting (for our science topic Living Things and Habitats).
Today was a very wet and windy forest school but we had so much fun. We did identifying leaves in the school field, making clay leaf pots and starting to make our shields which is linked to our Anglo Saxon topic. We also had some time to do our usual activities like playing in the […]
Today the children went to read their adaptation of a traditional tale to either Burscott or Cranford Class. They did very well and they should be very proud of their efforts.
Today we had a final tennis session with Julie from ARC Tennis. We concentrated on accuracy and embedding all of our skills we have learned.
We had a visitor today from Appledore Book Festival,, the author John Dougherty. We heard all about his writing, his books and poems. He read lots of lovely stories and poems to the class, he also sung us a very funny song about needing a wee! xworthy
Today's tennis lesson was all about accuracy, throwing and catching and then with using a racket. The whole class worked brilliantly in teams.  To
Today was our wonderful art day. We have created a fantastic display based around the quote 'Why fit in when you were born to stand out', you can see it on our classroom door (back). We have also contributed to the whole school community art project. We finished our day by decorating butterflies which will […]
Since the start of term we have had some wonderful training with Julie from ARC tennis centre. We concentrated during our first week on throwing and controlling the ball. Then we tried hitting and catching over the net. Our second week we practised various ball skills, finishing the session with a tricky game of rolling […]