Archive | Melbury Class
Yesterday, Melbury class were working hard developing their gymnastics skills. We were working on flight, learning about taking off on one or two feet and landing with bent knees for a soft balanced landing.  We tried challenging ourselves with star, tuck, straddle, pike and straight jumps including half and full turns.
This morning before school, was the first session for the amazing archers at Parkham. We learnt how to stand, hold the bow, set the arrows and how to shoot. We all helped each other and got better and better as the session went on. The highest score with 3 arrows was 16. This will be […]
Today, we couldn't go on the playground because of all the ice, but we needed to run around. After lunch we were kindly offered the use of Allardyce Hall to use for a PE and fun games lesson. We were split into four teams and showed great teamwork and sportsmanship as we competed in a […]
Today was a bit cooler than our previous sessions so we had a go at fire lighting again. This class continues to amaze me with their perseverance and resilience when using the fire strikers. Some children to more than 20 minutes to achieve fire. They never gave up and the expressions on their faces when […]
Today was the day we finally got to have our very own great fire of London and we couldn't miss the opportunity to have some s'mores at the same time. Melbury were very busy with the mud kitchen, Christmas tree decorations, digging, fire lighting and learning how to be safe around a camp fire.
Today was another soggy afternoon but Melbury soldiered on. We started some crafts with hers, nails, wood and wool.
This week we started some Christmas decorations with clay and willow sticks. We also talked about fire and what it needs to survive. We also had a great game of cat and mouse!!!
Today we learnt how to do some basic knots, played with clay and in the mud kitchen. We also made dens. 
A very very wet first session. But Melbury class were amazing and so resilient with the weather and still getting stuck in with different tasks. Can't wait for the rest of the term to see what they achieve.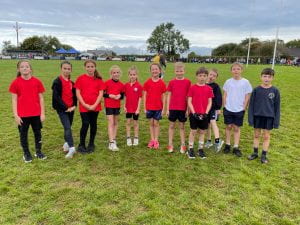 The Village Schools Partnership team were incredible at the Stephen Shield Cross Country at Torrington, showing great determination, self-belief and teamwork. Running a very muddy course, the years 3s and 4s ran an undulating 1.5km and the year 5s and 6s a challenging 2.2km.  All the children showed great sportsmanship cheering all the runners.  Well […]
Melbury and Tythecott Classes had a wonderful joint trip to Great Torrington this week to support their History and RE learning…