Archive | PE & Sports
Yesterday, in Real Gym the year 3s had time and space to really develop their gymnastics skills. They challenged themselves, worked together and helped each other improve through encouragement and giving ideas to help improve performance. Focusing on the 5 main gymnastic shapes (tuck, star, straddle, pike and straight), they all show great strength, balance […]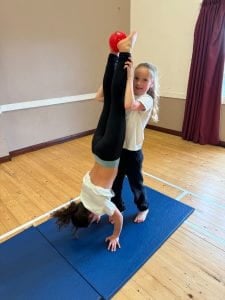 During Real Gym this week, we were thinking about how we can use the 5 gymnastic shapes (straddle, pike, tuck, straight and star) to create movements and sequences in rhythmic gymnastics. We focused the session on developing our listening and negotiating skills working with a partner to create each movement.  We discussed the challenges we […]
Sunflowers had an enjoyable PE session using the apparatus. After listening carefully to instructions, they took it in turns to develop their movement by balancing, jumping, crawling and climbing. Sunflowers had the challenge of thinking of different ways to move over and under the benches. All these activities help develop their gross motor skills.
This morning, the year 6 Buckland Brewer children came over to join the Parkham year 6s to do some Sports Leader training. The session involved playing lots of games whilst learning about self belief, communication, teamwork and leadership. From Monday, they will work together at lunchtimes and run different activities and games for the younger […]
This afternoon, some of the year 6s volunteered to undertake some training to become Sports Leaders. As well as be able to lead the younger children in physical activities including games and sports, they learnt how they will develop their own self belief and confidence, along with their communication, team work and problem solving skills. […]
We've been working on core strength and partner balances in PE. There has been some brilliant collaboration!
Today, groups B and C started their Bikeability courses. They did their best to dodge the bad weather throughout the day, practising on the playground in the morning and then onto the roads this afternoon. They all enjoyed the activities despite the weather.
Today saw our first group of cyclists test their skills on the playground and on the road, along with theory questions about how to stay safe on the roads.
This morning, Gorwood class developed their social skills working on partner balances in gymnastics. By discussing each balance and earning the trust of their partner they successfully achieved some very challenging balances demonstrating great strength as well as balance. Well done to you all. Next week, we will try even more challenging balances and discuss […]
This half term, Tythecott have been learning to play tennis in their PE lessons.  They have focused on accuracy, grip, forehand, backhand, serve as well as footwork and timing.  The children have developed their resilience and have continued to improve each week whilst having great fun.   
During our Real PE this half term we have focused on our personal skills learning about different ways we can move and balance. We have been on a bike adventure as well as a pirate adventure. On these different adventures we have learnt to follow instructions and practise safely and work on simple tasks by […]
On Tuesday lunchtimes, Tythecott and Gorwood classes have enjoyed football club. We have been learning passing, shooting and dribbling including different types of turn. We have applied all our skills to play games at the end of each session.
This half term in Tythecott we have been developing our personal skills through Real PE, learning about different types of footwork and how we can move. We have developed our skills at skipping, galloping, hopping, hopscotch and sidestepping. We have tried these movements forward and backwards and then progressed to zigzagging pathways along with sidestepping […]
Over the half term, Gorwood class have been learning about attacking and defending in tag rugby. We have learnt about the side pass, pop pass and gut pass along with the importance of dodging as well as supporting a team mate who is running for the try line. In addition, we have learnt the rules […]
Tonight after school, we had two football matches at Woolsery. The first was a tense boys league game – Woolsery vs VSP. At half time it was 1-1 including goals from Harry and the goal of the season by Logan to equalise. In the second half, both teams continued to play really well, with Woolsery […]
This morning, we entered a Village Schools Partnership team into the Stephen Shield Cross Country at Torrington Rugby Club. On a tough, muddy course in damp, and at times rainy conditions, all the children showed great determination finishing their races. Many showed great teamwork deciding to run the course together underneath the rainbow 🌈 . […]
Today in PE, Ashmansworthy learnt about a new rule in tag rugby. The rule states that you have 5 attempts to score a try, when your team is tagged a sixth time, the ball is turned over to the other team. Congratulations to the red team for fantastic teamwork, sportsmanship and great play. Well done […]
This afternoon, Alminstone practised the skills they have learnt and played large games. The focus was on supporting the runner to ensure a pass could be made quickly to attack the try line. Fantastic sportsmanship was on display by the whole class. Well done, everyone.
After school, we drove through the mist with little visibility to arrive at Hartland, where the mist had thankfully lifted. In the first game, the VSP had their first league match away to Hartland.  The team was made up of players from Woolsery and Buckland Brewer.  All the players were year 5 with one exception […]