Archive | Gorwood Class
In science, we have been looking at evolution and inheritance. This week we explored the idea of variation in offspring and how that can be advantageous in their survival. We investigated our reaction times by catching a ruler in one hand and two hands. The ruler was dropped without warning and where it was caught […]
This morning, Gorwood class were not afraid of the mud when it came to developing their skills. We practised tagging as well as  running with the ball until tagged.  This was then applied to the small sided games we played.
The whole school came together to raise funds for Comic Relief on Friday.  We dressed in red, had crazy hair and told each other jokes.  Ask your child their favourite ones.
The whole school created their favourite book character out of potatoes.  First prize was £10 book voucher and an Easter egg, second and third prize was an Easter egg.  Everyone that entered received 3 Family Group points.  Well done everyone: it was a very high standard of entries!  They are all displayed in the library, […]
In Gorwood class today we have been learning about the digestive system and the journey food takes through the body. To gain a better understanding we modelled digestion using some biscuits, a banana, some water and orange juice. We mixed the items together in a resealable plastic bag to represent the stomach and then poured […]
In gymnastics today, we developed our strength, balance, communication, teamwork and trust. Working together we tried a range of balances and adapted them to make them more challenging.  As you can see, they performed some amazing balances.  
This morning, not many children made it in to Buckland Brewer because of the snow and ice. We had a PE and games session with Tythecott and Gorwood classes joining and demonstrating great teamwork and sportsmanship.
Today in science, we used ratios and calculations to create a model of the solar system. Using lengths of toilet roll to measure the distances between the planets, we did our best in the blowing wind and driving rain to measure and set up our model of the solar system. Working in groups we calculated […]
All of the Village Schools joined together this morning for an indoor athletics competition at Atlantic Academy. The children were split into seven teams and took part in 7 field events and ended with a team relay race. The seven field events were the vertical jump, weighted ball throw, standing long jump, speed bounce, standing […]
Today, Gorwood class started Real Gym, thinking about their creativity. During the lesson, we explored the five main shapes used in gymnastics: straight, star, straddle, pike, tuck and developed sequences to include each of them. As well as developing our creativity within the lesson, we also learnt about how we can help support our friends […]
Gorwood class have progressed their Pbone skills. Amazing playing everyone! Click below to see video  IMG_3814
Very exciting last session with damper bread and hot dogs, and s'mores. They worked so well in teams to get the session underway, with bread making, whittling and cooking, and whilst there was a spare few seconds they got crafty with some glass jars, leaves and glue . This class has been amazing and I'm […]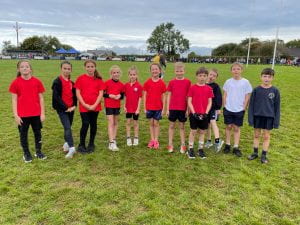 The Village Schools Partnership team were incredible at the Stephen Shield Cross Country at Torrington, showing great determination, self-belief and teamwork. Running a very muddy course, the years 3s and 4s ran an undulating 1.5km and the year 5s and 6s a challenging 2.2km.  All the children showed great sportsmanship cheering all the runners.  Well […]
Exciting day with fire pit building, more digging and finding items, den building, spider Web making and working put how to make a 3D spider put of willow. We did some whittling and weaving to make the webs. Some also wanted to make other items such as wands. We talked about how their week was […]
In science today, we worked in groups to investigate which material would be best to use to muffle sound. Our challenge was to create ear defenders for a pop concert that would protect the ears of the children attending. Before and after the investigation, we discussed why it was and why it wasn't a fair […]
During our PE session this morning, we practised a range of skills before we used them in our intra-class competition. We practised dribbling, passing and shooting. During the games we produced some excellent work playing as a team, as well as great individual play finding space, dribbling and scoring.
Today was again very challenging with the weather. But if Gorwood have shown anything this term it's perseverance in challenging situations. Today we had another dig session where they've found some interesting items which they've asked to research over the next week and are going to share with the session next week. We've also been […]
Thank you to Mr Hamilton for arranging our music visitor as a hook for the P-bones. Mr Pete Smith come to Gorwood class and played his trombone for the children. He showed the children the different parts of a trombone.
This half term, the children in Gorwood class have been doing forrest school with Louise Grout. Forest School is a child-centred inspirational learning process, that offers opportunities for holistic growth through regular sessions. It is a long-term program that supports play, exploration and supported risk taking. It develops confidence and self-esteem through learner inspired, hands-on […]
Gorwood have had another great morning despite the weather. They have had fun making dens, using survival shelters (some of the group definitely liked these as they worked out they could stay warm inside the tents), some were creating their own mud area for archaeological digs. They found some items so they needed to clean […]