Archive | Ashmansworthy Class
It's so lovely to see all of Ashmansworthy class progressing so much with their swimming lessons each week. This week aswell as perfecting particular strokes, alot of the children were taken out of their comfort zone. Some of the children swam for the first time without a pool noodle/woggle & some were jumping in from […]
Ashmansworthy thoroughly enjoyed their swimming lessons today and are doing incredibly well. Quite a lot of the children have managed to over come some fears over the last few weeks, whether that's swimming on their back, jumping in, putting their face in the water and being out of their depth or comfort zone. Ms Richardson […]
     What a sunny afternoon. We had a great afternoon today with elder pencil and paint brush making. A tree obstacle course, which was great fun and risk analysing all at the same time. There was stick play and hot chocolates. We also continued with our paper making with denim and blending the small […]
Ashmansworthy had a great swimming session on Friday.  Thankfully the coach turned up at the right time this week.  The children were assessed at their swimming and then placed into groups that they will work in until Easter.
Ashmansworthy class had great fun trying to make blood for our science lesson (Animals including humans circulatory and digestive system). We talked about the different components that make up blood (plasma, red blood cells, white blood cells and platelets) and what materials could be used to represent these eg red counters, cubes, white pom poms […]
In today's forest school session we explored forest school injuries and how we would call for help if something ever happened. They loved exploring different scenarios and how they would help the person injured. We also started making paper put of denim. We also played a civil war game on the field with sticks and […]
Today was a little bit different to our normal busy sessions. Today we sat by the fire with hot chocolate and marshmallows talking about how to manage relationships in school, how sometimes it can be hard to get along with everyone all the time. We talked about how it's OK to be frustrated but how […]
Despite a hick up with transport Ashmansworthy class had a great first swimming lesson at Torridge pool. Everyone seemed to enjoy themselves and had lots of fun in the pool.
This week we have two groups braving the wet and windy conditions to practise their cycling skills in the playground and the roads around the school and gain their level 1 and 2 Bikeability. This is Group 1 on Monday.
Today was a wet and windy first session, but Ashmansworthy were amazing, we started our making paper project. They created  webs from sting to clumb through, wellie throwing, den building.
All of the Village Schools joined together this morning for an indoor athletics competition at Atlantic Academy. The children were split into seven teams and took part in 7 field events and ended with a team relay race. The seven field events were the vertical jump, weighted ball throw, standing long jump, speed bounce, standing […]
Today in REAL GYM, we continued to think creatively about the 5 main shapes in gymnastics. Thinking about our skills on the floor mats last week, we thought about how we could challenge ourselves and transfer these skills onto the apparatus. We used great social skills to discuss what could be achieved individually and as […]
Today Miss Grant and I had the pleasure of taking 8 young ladies (years 5/6)to Bideford Rugby ground for a tag rugby festival. Considering this is the first time the girls have played together and some girls didn't even know how to play the game before we started, they all played incredibly well. We won […]
A great last session was had by all!!! We had pizza's on the fire with s'mores for afters. There was a lot of spooky activities going on today; apple bobbing the forest school way, spider webs from clay, sticks and wool, we had some tea light jars decorated with autumn leaves, more mud kitchen madness […]
Yesterday, using all the skills and knowledge we have learnt over the last 6 weeks, we ended the topic with a competition.  We showed excellent teamwork, super dribbling and defence, along with great shooting and passing.  Congratulations, to all the players who played brilliantly.  A special mention to the blue team who played every game […]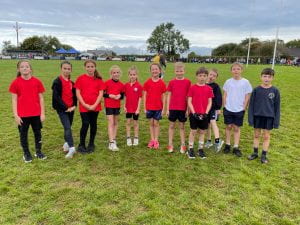 The Village Schools Partnership team were incredible at the Stephen Shield Cross Country at Torrington, showing great determination, self-belief and teamwork. Running a very muddy course, the years 3s and 4s ran an undulating 1.5km and the year 5s and 6s a challenging 2.2km.  All the children showed great sportsmanship cheering all the runners.  Well […]
Another really busy session. The excitement was intense with one group finally cutting through the log. They had such perseverance it was so lovely to see. We had some groups working together to make a loom to create a grass mat for seating in the new den they've made. Another group worked together to collect […]
Today was a very productive day using all types of tools. We broke put into small groups. Group 1 were using a bill hook and mallet to make kindling for our fire session in a couple of weeks. Group 2 were making log seats for Cranford outdoors area and group 3 have been clearing and […]
Ashmansworthy had a soggy session this week. But still managed to keep busy with the bridge building challenge. Digging, painting, mud kitchen, chilling out in the hammock.
Today was an amazing session they have all remembered the names of the trees we have in a school forest school area and we had fun once again in the mud kitchen. We've started to build a Hazel bender den, where they had to work in teams to find the best wood to cut and […]