Archive | Goldworthy Class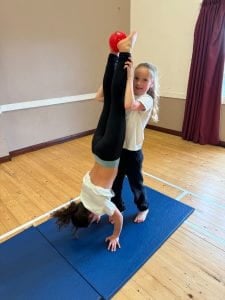 During Real Gym this week, we were thinking about how we can use the 5 gymnastic shapes (straddle, pike, tuck, straight and star) to create movements and sequences in rhythmic gymnastics. We focused the session on developing our listening and negotiating skills working with a partner to create each movement.  We discussed the challenges we […]
This morning, the year 6 Buckland Brewer children came over to join the Parkham year 6s to do some Sports Leader training. The session involved playing lots of games whilst learning about self belief, communication, teamwork and leadership. From Monday, they will work together at lunchtimes and run different activities and games for the younger […]
This session was all about story thing and sharing food to create something really tasty.
Goldworthy had fun working in teams to get a fire going using a rope and a stick.
We had fun exploring different natural dyes. There was also a team.if gardeners helping with our new project.
We have now started our new gardening project. We have the raised beds the compost and we will be getting some seeds for planting our own vegetables. We have also joined a new project with Devon wildlife Trust its called 'saving devons treescape' This project is all about growing our own trees and sharing with […]
Today was very chilled in forest school. We had a few activities such as wood cookies learning about a bow saw. They then played a game of prey and predator so we talked about what would be prey so they said chicken and the fox was the predator. We also had to learn how to […]
Goldworthy Class had the opportunity today to try out the sport of fencing with our visitors Andrew and Becky. All the children thoroughly enjoyed the new experience.
Goldworthy Class used their ICT skills on KeyNote to create a Venn diagram to show which items around school use electricity. We then specified whether they were powered by the mains (through an electrical socket and plug) or a battery. We also found some items that can both powered by mains and a battery.
We had an amazing day at the Wake Park: the weather was kind and the activities were awesome! What a fabulous way to celebrate the end of primary school for Year 6!
Today was a great day. We were lucky with the weather and the rain managed to stay away. The class were great they explored the woods and built dens then played a tribal game. They also learnt how to do damper bread hotdogs, we had s'mores and a chocolate fondu. We also had an epic […]
Today, children from across the partnership travelled to Taunton to watch a professional cricket match. There was some cricket until lunch with Somerset losing four wickets. During this time the children had their faces painted and tried out some of their own cricketing skills with bowling and throwing at different targets. At lunchtime, Mr Marks […]
Today we started to make some tent pegs for our dens in Burford woods when we go in a few weeks. However some decided to try making spoons and a butter knife sonde can use these when we cook. Some others decided to make a new pond in our area and others of course played […]
Today we talked about summer solstice and how some celebrations change depending who celebrates. We made fairy crowns with edible flowers, started our lanterns and also made paracord dragonflies and played games.
Today the Village Schools Partnership took a team of swimmers to a gala at Northam Pool. For many, this was their first experience in a competitive swimming race. They demonstrated great determination and resilience as they competed in their races with very little rest in between races. One swimmer lost her hat and her goggles […]
Today Goldworthy were amazing they helped move some woodchip that we got delivered into our forest school area. They will  be getting s'mores for their first session next half term! They had fun transforming the area and they can't wait for the next of our on going forest school area project.
Well done to the year 4s and 5s in Goldworthy who pledged to run a mile to be part of the World Record attempt. We should find out next week if we are successful and officially World Record breakers.  
Monday afternoon was spent in the company of Becky Driscoll from RootNotes and the year 5 children from throughout the Village Partnership, exploring the wonderful world of folk music. In less than an hour we were all playing a musical instrument and playing a piece together. We also created our own verse for our song […]
A fun time was had by all at the Easter afternoon organised by the fantastic FOPS! The children enjoyed an Easter Hunt, Easter Bonnet decorating, biscuit decorating and having their faces painted.
Yesterday, Goldworthy class showed great trust, balance and strength in their partner work. They demonstrated good communication discussing how they would perform each balance safely thinking about body tension and shape.