Author Archives
Yesterday in Burscott class, we worked on improving our performance. Working in pairs, we filmed our partner and then discussed what they had done well and what they could improve in their performance. It was great fun being able to see our performances to help us improve.
This morning, Alminstone dodged the rain and played under the rainbow.  Today's lesson focused on decision making in 3 v 3 mini games.  When to pass, dribble or shoot.  We played lots of mini games before joining together to make bigger teams for whole court matches applying our understanding of tactics.  
Today in science, we used ratios and calculations to create a model of the solar system. Using lengths of toilet roll to measure the distances between the planets, we did our best in the blowing wind and driving rain to measure and set up our model of the solar system. Working in groups we calculated […]
In REAL Gym this afternoon, we explored creating gymnastic sequences on the low apparatus.  Using the skills we had learnt in our floorwork last week, we were able to transfer our skills and further challenge ourselves using the apparatus. We continued to encourage and praise our partner as well as give them ideas of how […]
All of the Village Schools joined together this morning for an indoor athletics competition at Atlantic Academy. The children were split into seven teams and took part in 7 field events and ended with a team relay race. The seven field events were the vertical jump, weighted ball throw, standing long jump, speed bounce, standing […]
Today in REAL GYM, we continued to think creatively about the 5 main shapes in gymnastics. Thinking about our skills on the floor mats last week, we thought about how we could challenge ourselves and transfer these skills onto the apparatus. We used great social skills to discuss what could be achieved individually and as […]
After school, Village Schools Partnership had two games at home to Hartland. In the first game, the year 3/4 boys gave their all and battled to a 1-0 win. The second match saw our Key Stage 2 girls playing against very tall opposition. This did not stop them winning a very exciting game 4-1. Both […]
In Real gym yesterday,  we were learning to develop our social skills to discuss how to create a gymnastics sequence with a partner.  We had to include all five gymnastics shapes including: straight, star, pike, straddle and tuck positions.  Every pair were fantastic at showing good control and body tension.  
After school, Parkham and Buckland Brewer came to Woolsery for some friendly football matches. The first game was a Key Stage 2 girls match which showed not only wonderful play and great goals, but also fantastic sportsmanship. Well done to all the girls who made sure everyone had a chance to play in both teams. […]
Today, Gorwood class started Real Gym, thinking about their creativity. During the lesson, we explored the five main shapes used in gymnastics: straight, star, straddle, pike, tuck and developed sequences to include each of them. As well as developing our creativity within the lesson, we also learnt about how we can help support our friends […]
Yesterday, using all the skills and knowledge we have learnt over the last 6 weeks, we ended the topic with a competition.  We showed excellent teamwork, super dribbling and defence, along with great shooting and passing.  Congratulations, to all the players who played brilliantly.  A special mention to the blue team who played every game […]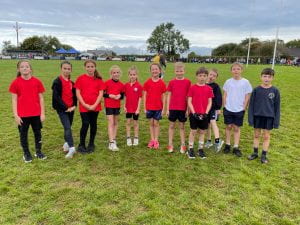 The Village Schools Partnership team were incredible at the Stephen Shield Cross Country at Torrington, showing great determination, self-belief and teamwork. Running a very muddy course, the years 3s and 4s ran an undulating 1.5km and the year 5s and 6s a challenging 2.2km.  All the children showed great sportsmanship cheering all the runners.  Well […]
Village Schools Partnership played two matches away to Hartland. Well done to all the players, you were amazing. Some of the players had never played before whereas some had played last year and for other local teams. The year 3/4 match ended 1 – 1 and the year 5/6 match was sadly lost. There was […]
In science today, we worked in groups to investigate which material would be best to use to muffle sound. Our challenge was to create ear defenders for a pop concert that would protect the ears of the children attending. Before and after the investigation, we discussed why it was and why it wasn't a fair […]
During our PE session this morning, we practised a range of skills before we used them in our intra-class competition. We practised dribbling, passing and shooting. During the games we produced some excellent work playing as a team, as well as great individual play finding space, dribbling and scoring.
Today in PE, Alminstone practised some more attacking and defending skills before playing an intra-class competition.  Lots of tries were scored by all four teams, with some incredible individual efforts along with some excellent passing for team tries.  Congratulations to the pink team who were the winners.
After school, we had two Woolsery teams play friendly matches against Hartland. Well done to all the players who played really well and gave their best. Both teams were very unlucky not to score. Congratulations to Hartland who won both games. A huge thank you to Mrs Appleton for organising all the refreshments after the […]
During our music we have been learning about listening and appraising music. The song we are focusing on is 'Happy' by Pharrell Williams. This week, we practised both vocal parts and used glockenspiels to accompany the melody.
This week in Real PE, we have been learning about working with a partner and balancing, as well as sending and receiving balls. It became very challenging when we were doing partner balances with one hand and then with our eyes closed.  At the end of the lesson we spoke about what our partner did […]
This afternoon in Burscott, we went on an aeroplane flight to learn more about 'Flying high'.  We discussed that we go to an airport to fly on an aeroplane.  We took our luggage to check in, where we were given our tickets.  We then had to pass our hand luggage through the scanner and go […]