Archive | Forest School
     What a sunny afternoon. We had a great afternoon today with elder pencil and paint brush making. A tree obstacle course, which was great fun and risk analysing all at the same time. There was stick play and hot chocolates. We also continued with our paper making with denim and blending the small […]
Alminstone had a great morning. They loved finding ice around the forest school area and looking at the different air bubbles and items that have got frozen. We also had tree climbing and working out the best way to climb through the trees to get to the end. They were amazing at analysing their own […]
Celebrating Chinese New year. Cranford were super busy today, making art, dens, hanging like sloths, also having popcorn and fire.
Thank you to our Forest School Leader, Louise Grout and Finley from Alminstone Class for our lovely new, secret garden.  This area will help us understand the world and help us to understand the need to respect and care for the natural environment and all living things. We enjoyed exploring our new bug house and […]
In today's forest school session we explored forest school injuries and how we would call for help if something ever happened. They loved exploring different scenarios and how they would help the person injured. We also started making paper put of denim. We also played a civil war game on the field with sticks and […]
Today was a little bit different to our normal busy sessions. Today we sat by the fire with hot chocolate and marshmallows talking about how to manage relationships in school, how sometimes it can be hard to get along with everyone all the time. We talked about how it's OK to be frustrated but how […]
Today's forest session was a little chilly so we decided to have a fire and hot chocolate. With the mud kitchen, den building, and paper making out of denim Alminstone were super busy keeping warm and exploring what they can achieve in the cold if they keep trying.
This was a tough session the weather was against us from the start. Orleigh were amazing they showed some amazing resilience in the cold, wind and wet.
Today, we had our first fire, we talked about how to be safe around fire. We also had popcorn (which we tumed perfectly as its national popcorn day tomorrow) and hot chocolate. Foxdown Then got busy mark making, building with blocks, cooking in the mud kitchen and playing in the den. We also made willow […]
The great storm of Parkham. This week was a tricky week. The weather was against us, but Foxdown were amazing. We had a quick game of wellie throwing and a story in the hut. But the wind, lightning and hale had other ideas. The resilience of this class was unbelievable.
Today was Foxdowns first forest school session and they loved it. With mud kitchen, chalk painting,  building blocks. We also started our new project of making paper out of denim!!!
A great first ever forest school sessions. They were all amazing and creative with their forest school names, we did have some dinosaurs in their! They had fun building, digging and using the chalks, and den building. 
Today was a wet and windy first session, but Ashmansworthy were amazing, we started our making paper project. They created  webs from sting to clumb through, wellie throwing, den building.
Alminstone had their first session of forest school today. It was a little wet and windy but they had so much fun building, playing and creating. We had some building dens, some creating willow baskets, and some making up their own scavenger game which was amazing. We also found some Oak Ghouls for our ink […]
Today was a bit cooler than our previous sessions so we had a go at fire lighting again. This class continues to amaze me with their perseverance and resilience when using the fire strikers. Some children to more than 20 minutes to achieve fire. They never gave up and the expressions on their faces when […]
Today was another busy session. We were making Christmas wreaths, some were finishing of their projects from other weeks, with wood cookie necklaces and willow and wool tree decorations. It was chilly so of course we had to have hot chocolate.
Sunflowers had an exciting and beautiful sunny afternoon making Christmas wreaths. It was a bit chilly but they all new how to warm up, so outcomes hot chocolate and marshmallows.
Today was the day we finally got to have our very own great fire of London and we couldn't miss the opportunity to have some s'mores at the same time. Melbury were very busy with the mud kitchen, Christmas tree decorations, digging, fire lighting and learning how to be safe around a camp fire.
We had a great day. We did some cooking and had hot chocolate and s'mores! We also got creative with Christmas decorations and planted a tree in our forest school area. A busy time was had by all.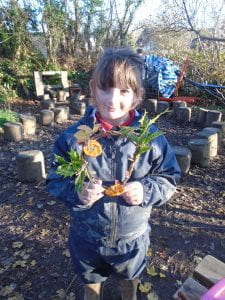 Today we started to make a willow and hazel hurdle fence (Anglo Saxon style! – link to our History topic!), we made Christmas tree decorations from willow, leaves, wool (using our weaving skills) and still had the opportunity to exploire our usual forest school activities like the mud kitchen climbing trees, gardening, maintenance of our […]