Author Archives
Today we played a game to round various number to the nearest 10 or 100. . Some of us were challenged further by rounding to the nearest 1000.
This term we are having lessons with ARC tennis. The children are really enjoying themselves.  
This week in Science we have had fun learning the electrical circuit symbols and understanding how an electrical circuit works. From a diagram we predicted whether a circuit would work. We then built the various circuits to test our theories.  The atmosphere was electric!
In Stroxworthy Class this week, we nave been exploring what life was like during the Industrial Revolution. We tried out the following; Polish your shoes (shoe polish, brushes, cloths). Work out what some strange Victorian inventions are (pictures of inventions). Make a string telephone and try to communicate with someone (string, plastic cups). Read a […]
Well what a way to finish our Wednesday! We had a superb session where   the children experienced all the basic techniques of fencing. They had a wonderful and enjoyable time.
Following on from our visit to All Hallows last week, today we visited The Methodist Chapel to compare similarities and differences in 'what is sacred', and how the buildings help Christians to remember the life of Jesus. Rev'd Shirley led us and we discovered many similarities, such as hymn singing (Methodists love hymns and we […]
This week in science we were identifying how sounds are made; associating some of them with something vibrating. We recognised that vibrations from sounds travel through a medium to the ear and that sounds get fainter as the distance from the sound source increases. We did this by making and testing out string telephones.  
This afternoon Stroxworthy class visited All Hallows church with Rev'd Jane to explore what items are 'sacred' to Christians and how a church reminds Christians of the life of Jesus. Revd Jane helped us to understand which items in the church are sacred, their meaning to Christians and how they relate to the life of […]
Stroxworthy class have had a wonderful time during science week, from STEM challenges to various experiments.  We have been exploring balloon cars, invisible ink, double bubbles, fizzy lava slime and building towers with spaghetti and marshmellows.
Today we were joined by lifeguards from the RNLI. They helped us to explore and understand water safety. We learned how the lifeguards help those in trouble in the water and what we should do in an emergency.  
Monday afternoon was spent in the company of Becky Driscoll from RootNotes and the year 5 children from throughout the Village Partnership, exploring the wonderful world of folk music. In less than an hour we were all playing a musical instrument and playing a piece together. We also created our own verse for our song […]
On Tuesday we spent a glorious day at Rosemoor exploring the gardens and partaking in a 'How do plants grow' workshop.  We learned how plants develop, seed dispersal and what plants need in order to grow big and strong. We also learned how to take care of plants and we all worked together and planted […]
Today we learned all about the Jewish festival of Rosh Hashanah which is the Jewish New Year. We explored how Jewish people celebrate this festival which is all about about new beginnings and the year ahead. We found out that on Rosh Hashanah, Jewish people visit the Synagogue, hear special music played on a ram's […]
On Tuesday we began to explore the game of handball. We started with our warm up and then we practised throwing and catching. We are getting rather good!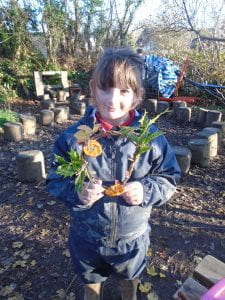 Today we started to make a willow and hazel hurdle fence (Anglo Saxon style! – link to our History topic!), we made Christmas tree decorations from willow, leaves, wool (using our weaving skills) and still had the opportunity to exploire our usual forest school activities like the mud kitchen climbing trees, gardening, maintenance of our […]
Today we continued our lessons of Real Gym. Today we were making rhythms in groups and then matching the rhythms using balls. We then were practising our rotation skills.
Today we were doing lots of things in our forest school area: bug hunting, painting our clay, looking for clouds through a window, maintaining the area, painting trees, mud kitchen, making shields and creating faces from items in and around the forest school area.
On Thursday we had another fantastic session in our Forest School area. We explored the mud kitchen area, made clay pots and went bug hunting (for our science topic Living Things and Habitats).
Today was a very wet and windy forest school but we had so much fun. We did identifying leaves in the school field, making clay leaf pots and starting to make our shields which is linked to our Anglo Saxon topic. We also had some time to do our usual activities like playing in the […]
Today the children went to read their adaptation of a traditional tale to either Burscott or Cranford Class. They did very well and they should be very proud of their efforts.