Newsletter: 29th November 2019
Poppy Appeal Thanks
We've been contacted by the Royal British Legion in Hartland who organise our annual poppy collection for us. The school raised an amazing £191.94 through sale of poppy merchandise which works out at around £1.50 per child – thank you so much for this level of support, it's very much appreciated and your generosity will go to help ex-servicemen and -women, and their families, in a whole range of projects.
Scheherezade Tickets
Please remember tickets for our Whole School Production in just over ten days' time can be requested using this link https://forms.gle/zumy1z2cexqz42P26 . We would like to allocate tickets early next week, so please go online and book them over the weekend if you can. Thanks.
Scheherezade Scenery
On Monday 9th December, we need someone with some big transport to run our scenery boxes down to the Village Hall – and to bring them back again on Friday 13th or the following Monday. As you will have seen, our scenery is quite large (!) so if you have a suitable vehicle, please get in touch. Thanks.
Christmas Jumper Day
Next Friday, we will be holding a Christmas Jumper Day in return for raffle prizes for our School Production. If your child wishes to wear a Christmas Jumper on the day, they will need to bring in an item suitable for a family raffle, shown below:
Cranford & Sunflowers – chocolates or sweets
Burscott & Stroxworthy – biscuits and festive treats
Alminstone & Ashmansworthy – smellies and bottles*
*(please can any alcoholic drinks be delivered straight to the school office by an adult, not children, thank you. Other prizes straight to classes)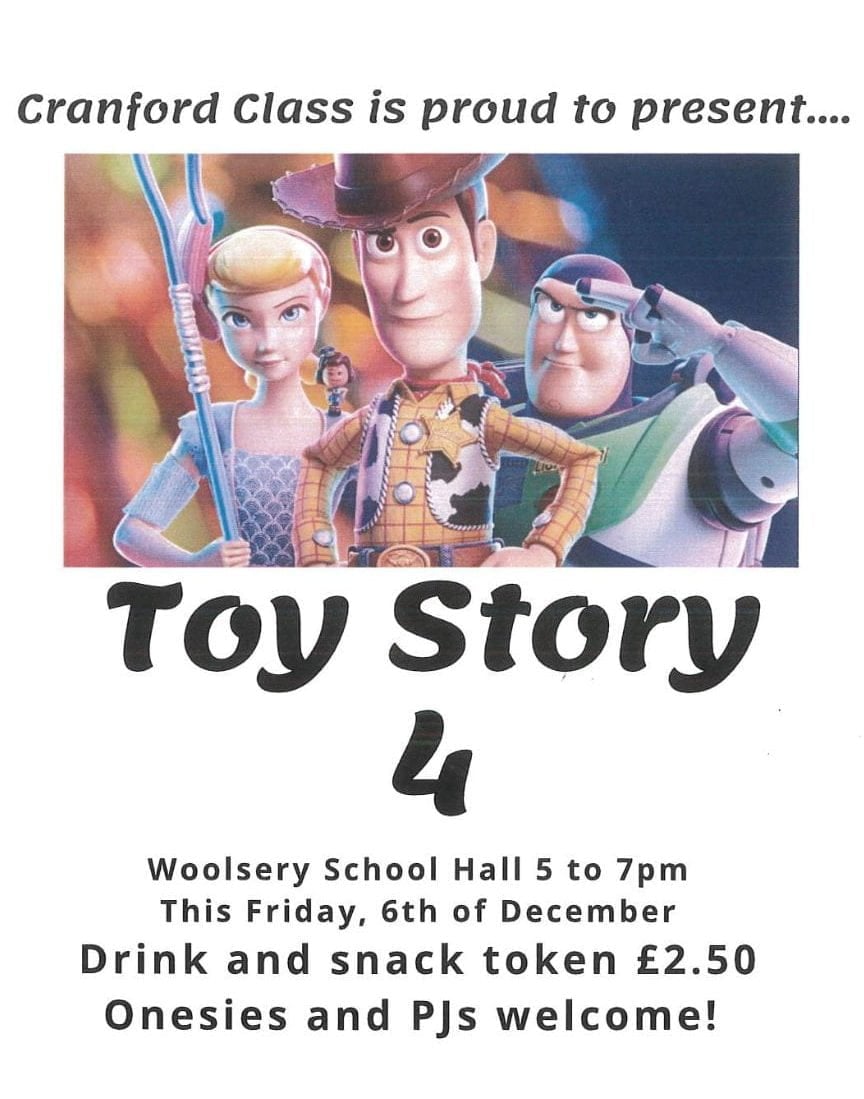 Zumba Thanks
Most Mondays a group of adults use the school hall for a Zumba session. Although the school doesn't charge a booking fee, the group members make a voluntary contribution which is then donated to the School. We were delighted to receive a futher £100 into school funds this week bringing the total donations for your children since December 2016 to £2116 – Wow! Thank you everyone :-)
Advent Books
Yesterday in assembly, the children were given Advent booklets by the Hartland Coast Mission which should be in book bags today. Here is a letter from Rev Jane Hayes explaining what they're all about:
Dear Parents/Carers,
Please accept this little book as a gift from the ministry team of the Hartland Coast Mission Community. Inside are lots of ideas to share as a family – a sort of active advent calendar. This is such a busy time of year that it can be nice to take a few minutes out each day to forget the tinsel and the turkey and think about what Christmas is really about- the Christ in Christ-mas!
Even if these aren't your beliefs there are plenty of ideas to share together as a family. We hope you will accept this gift in the spirit in which it is given.
Our Christmas services are well publicised but here are the dates of Christingle services, where we celebrate and aid the work of the Children's Society.
All Hallows, Woolsery, 1st Dec 9.30 am
St Nectan, Hartland, 1st Dec 11.00 am
St Nectan, Welcombe & St Mary & St Benedict, Buckland Brewer, 8th Dec 4.00pm
Every Blessing,
Rev'd Jane H, on behalf of the team.
Village Stores Decorations
Andy and Sarah at the shop have launched a fundraiser for FOWS which will also brighten up the exterior of the shop whilst it's under wraps for the renovation work:
Clovelly Lights
Sunday is the switch-on of the Clovelly Christmas Lights. As usual, children from the school will be singing carols going down the main street and will be performing "Sound The Trumpet" during the carol service at the bottom. If your child is taking part, you should already have received an email from me, but they need to meet me in the car park at the Visitor Centre at 3:20 ready to move off at 3:30pm. They don't need to wear uniform; Christmas accessories are encouraged.
If you're planning to come along, please remember this is a vital fundraiser for the RNLI in Clovelly – entry to the village is free, but parking donations are suggested at £5 per car. There will be carols (obviously!) , refreshments and a wonderful firework display to round the evening off.
Football Goals
I know this appeal has popped up several times over the last year or so, but due to the Air Ambulance Landing Site on our field we have had to remove the lower football goal. We would very much like to rotate the pitch by 90 degrees so the children are playing across the field not up and down, this way we can reinstate both goals. We have the foundation tubes and the concrete – we just need some willing hands to dig four holes, line everything up and bring the pitchback into use – if anyone is able to do this, please get in touch, we'd be delighted to hear from you.
---
---
Well done to our Super Learners this week…
Cranford: Arthur – his amazing Penguin story writing using question marks; Noah – his amazing Penguin story writing using question marks
Burscott:  Elsa – really trying her best in her writing; Xavier – demonstrating good knowledge of multiplication in Times Tables Rock Stars
Stroxworthy: Aaron– creative planning in English writing; Faris – great ideas in English writing
Alminstone: Morgan – great paired sawing in Forest School; Alfie – great paired sawing in Forest School
Ashmansworthy: Megan – always working hard and trying her best, and for always being polite and helpful; Callum – working hard and always trying his best, and always being polite and helpful
Sunday – Clovelly Lights from 3:30pm £5 per car for RNLI
Monday – Mr Davies out all day, Mrs Dobson supply; Mrs Farmer out all day, Mrs Newell with Alminstone
Tuesday –
Wednesday – Cranford and Burscott to All Hallows Church (AM) – Christmas Songs; NSPCC Safeguarding Workshops (PM)
Thursday – Stroxworthy Class to Tiny Tots sharing learning
Friday – FOWS Christmas Jumper Day for Raffle Prizes, FOWS Movie Night (see above)