Newsletter: 18th September 2020
Music Update
Sadly, since I wrote in last week's Newsletter, Annie Gordon has decided that she is going to retire from offering in-school music lessons with immediate effect. Annie has been a huge part of the musical life of the school for many years and, although she will keep in touch with us, will be very much missed.  We wish Annie all the very best for the future!
We have been fortunate to find another company to offer in-school music lessons and they are planning to begin working with us from after October Half Term. Details are shown below so please get in touch with Mandy or Des if you would like to find out more.
We have a range of instruments which could be loaned out if your child is unsure whether instrumental lessons are for them. As you know, we strongly support music education at our school and understand the cognitive benefits of playing an instrument which go far beyond music-making itself and are shown to improve mental capacity.
(Drumming with Laura will resume on Tuesday)
Road Crossings
This week has been so much better, with drop off and pick up working much more smoothly and safely. Thank you for your help – it is very much appreciated!
Free School Meals
Please remember that you may be entitled to claim free school meals for your child, even if your current situation is temporary. Although you may already qualify for the blanket Infant Free School Meals scheme, registering for income-related free school meals also unlocks a pot of funding for your child to support them in their learning. this is called Pupil Premium. One you have received free school meals entitlement, the additional funding stays with your child for the next six years of their education, even if your circumstances change and you no longer qualify. This funding isn't accessible to the school (or to your child) if you don't register your entitlement. The qualification threshold is any of the following:
Universal Credit (provided you have an annual net earned income of no more than £7,400, as assessed by earnings from up to three of your most recent assessment periods).
Income Support (IS).
Income-based Jobseekers Allowance (IBJSA).
Income-related Employment and Support Allowance (IRESA).
The guaranteed element of State Pension Credit.
Support under Part VI of the Immigration and Asylum Act 1999.
Child Tax Credit (provided you're not also entitled to Working Tax Credit and have an annual gross income as assessed by Her Majesty's Revenue and Customs, that does not exceed £16,190).
Working Tax Credit run-on  (the payment you get for a further 4 weeks after you stop qualifying for Working Tax Credit).
To find out more, and to register your family visit the Devon Citizen's Portal
Individual Photos
We have booked in our photographer for individual portraits for Monday 12th October in the morning. At the present time we are trying to work out how to manage family photos too without bursting any of our covid bubbles and are confident that we can make this happen, certainly for children on roll at this school or our Preschool. Once we have worked out the logistics we will let you know, but please put this date in your diaries.
Lost Property
Only ten days into the new year and our Lost Property Box is full to bursting. It's obviously more complicated to look through things at the moment as parents aren't able to come onto the site. Today (Friday) and on Monday (weather permitting) we will put the items on tables outside the school gate. Please look through if your child has lost something and sanitise your hands at the pump afterwards. Please also take some time at the weekend to make sure everything your child brings and wears to school is named – this is even more important at the moment as our lost property situation shows! Thanks.
We are noticing a lot of water bottles in school which aren't named. Please name your child's water bottle so it is clear to staff whose bottle is whose. Even if your child can recognise their own bottle, it doesn't help much if it's left out on tables or someone else in the class has an identical brand. This is an essential part of our Covid-secure processes so is vitally important for our continued safety. If you could also ask your child not to carry their drink in their book bag, that would be great as we supply book bags to protect our reading book stock and have already had a few books damaged through leaking bottles this term.
Blog and Tapestry
Please remember that teachers are now resuming posting their class activity on the school Blog so do take a look and comment – this is even more important at the moment when we don't get the chance to see much of you and the gap between school and home seems very wide.
If your child is in Early Years, please remember that although classes will be posting on the Blog, we strongly encourage you to take part in conversations via Tapestry so Early Years staff can talk to your child about what they've been doing away from the classroom. If you have any problems or questions about Tapestry, please speak to any of the Sunflower or Cranford Class staff team.
Coughs, Colds and Covid
Please remember that if your child has a runny nose or is sneezing but doesn't have a fever (over 37.8 degrees) and hasn't lost taste or smell it is unlikely that they need a Covid test and probably just have a cold – they can attend school normally. We have a lot of common cold around the school at the moment which is a result of everyone being out school for so many months. Our guidance is very clear that children can attend school with symptoms of a cold but if you are unsure and wish to get a test, your child must stay off school until the result of that test is known. Your whole family should isolate whilst awaiting the test result. If the test is negative, everyone can continue normally.
If our guidance changes, we will update you straight away.
This helpful chart has been published on the BBC News website: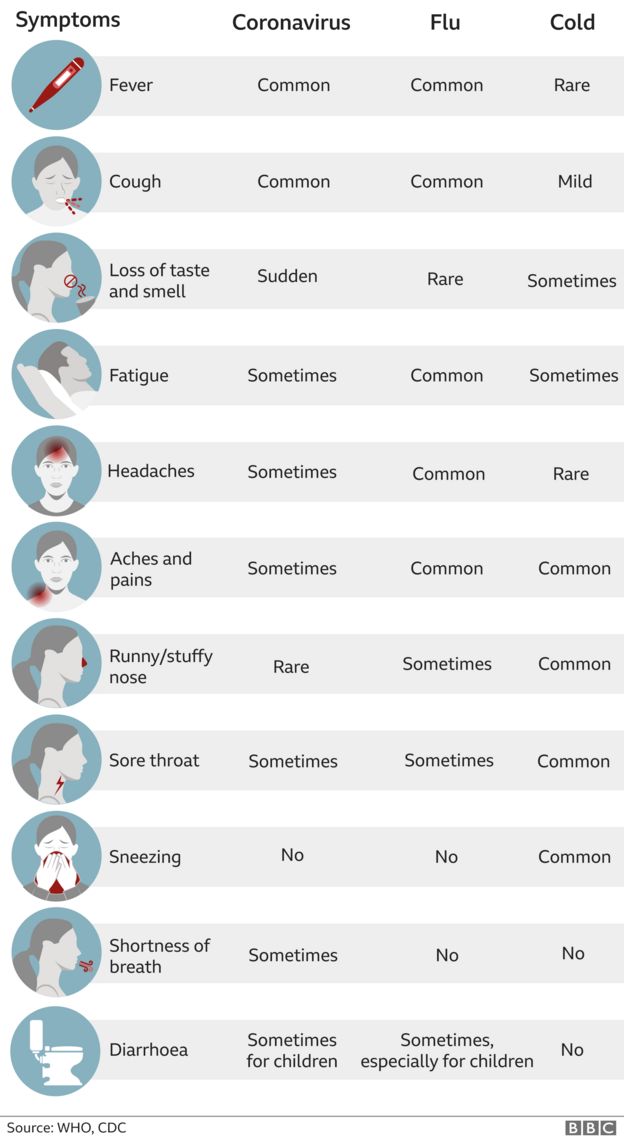 Whatever you are doing this weekend, we hope you have a happy time and look forward to seeing everyone next week.
With best wishes
Matt Cole, Headteacher