Author Archives
We have had a very busy first week back. The children have settled well as  a new class and we have jumped straight into our learning.
As part of this term's work looking at the history of transport in the local area we were lucky enough to be able to take a short boat trip out of Clovelly on Jim Dickson's fishing boat.  Visibility wasn't too good but the children loved it. We did some crabbing, pebble painting and ice cream […]
We followed the instructions to make potions today, as part of our work related to Instruction Writing and Roald Dahl's George's Marvellous Medicine. Great fun was had by all!
We had a great time this morning at the cricket festival. And we didn't get wet!!!
We started looking at our new text this week and began by learning and reciting some parts from it.
A resilient walk back up!
Thanks to Neil, Mati and team for showing us around – really informative!
Cranford and Burscott classes had  a great day at Forest School in Burford Woods yesterday.
This was a real science experiment where we had to adapt quantities and ingredients to make it work. Luckily Mrs Nisbitt had the magic ingredient!
The children loved explaining what they had been up to to their peers across all classes, and to their parents.
This was sooooo much fun! We had to blow one bubble and then blow another one inside it!
The challenge was to make the tallest tower possible – although the bigger challenge was NOT to eat the marshmallows!!!
We wrote secret messages in lemon juice and then made them reappear with an iron! It was awesome!
In our literacy work we have been looking at Information texts and how to present information about the jobs people do. We had a visitor to talk about his job. We listened beautifully, produced some amazing questions, and have done some great writing based on what we found out.
As part of our Science on materials, the children had to make a house that would survive the wolf's 2huff and puff" – in this case a hairdryer! Great fun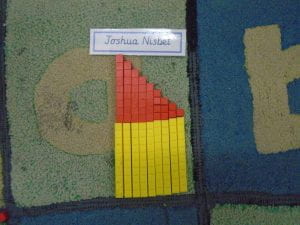 Year 1 in Burscott class have been working on place value this week. Today they made 'teen' numbers with the Diennes independently.