Author Archives
In our literacy work we have been looking at Information texts and how to present information about the jobs people do. We had a visitor to talk about his job. We listened beautifully, produced some amazing questions, and have done some great writing based on what we found out.
As part of our Science on materials, the children had to make a house that would survive the wolf's 2huff and puff" – in this case a hairdryer! Great fun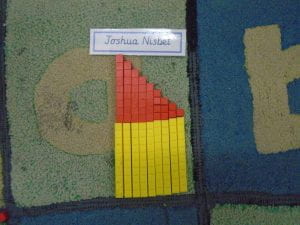 Year 1 in Burscott class have been working on place value this week. Today they made 'teen' numbers with the Diennes independently.
This week we have been discussing how we can make our playtimes more positive. We had an assembly on Monday to discuss the problems, and then came up with some solutions in our Family Groups on Thursday. Burscott class made a start by tidying up the area. We then put some activities outside and opened […]
The children made an amazing effort with their dressing up and have had a fun day completing Pudsey activities, decorating biscuits and best of all, completing a spotty treasure hunt which they really enjoyed – thanks to Charity Voice for organising!
As part of our RE work, Mrs Newell arranged a ceremony to explain a Christian wedding to the children. They all dressed in their best clothes and walked to Woolsery Methodist Church where the ceremony took place with reverend Shirley. They then went back to school for a wedding breakfast and party. A really lovely […]
We had a brilliant morning at Holloford Farm., finding out all about how a dairy farm works. Thank you to Clare for showing us around and answering our questions!
Cranford and Burscott classes had a great trip out to Burford Woods on Monday. Here are some of the photos.
Some more photos from last weeks lovely trip to the beach.
We have had more visitors over the last week or so: Monty's chicken; Thomas's tortoise; Rudi's Nanny's dog , Mollie Jo's chihuahua, Alfie's cat and Maggi's Shetland Pony. All very well behaved!
Our literacy work this term is based on books about pets. The children have been very excited to be bringing in their pets. Here are some of the pictures so far.
This week we read a story about a little boy called Louis who had a mouth like a volcano. Every time words came into his head, they erupted out of his mouth – whether it was a good time or not. We talked about what we could do to stop our moths erupting!
Burscott class had a lovely morning in Forest School in the sunshine.
The children had a fabulous time at Forest School this week!
We have had  a lovely day with our books in Burscott class. We have shared them with our friends and done lots of book activities. We also played Mr Men charades!!